We love a good DIY project, and this week we turned to New York-based Pinay blogger Kirsten Nunez of Studs and Pearls to help us revamp a long-sleeved tee, so we can turn it into an off-shoulder top. P.S. It's perfect for the summer!

You'll need a long-sleeved tee, a pair of fabric scissors, straight pins and thread, an iron, and fussible webbing tape (but you can also use fabric glue!).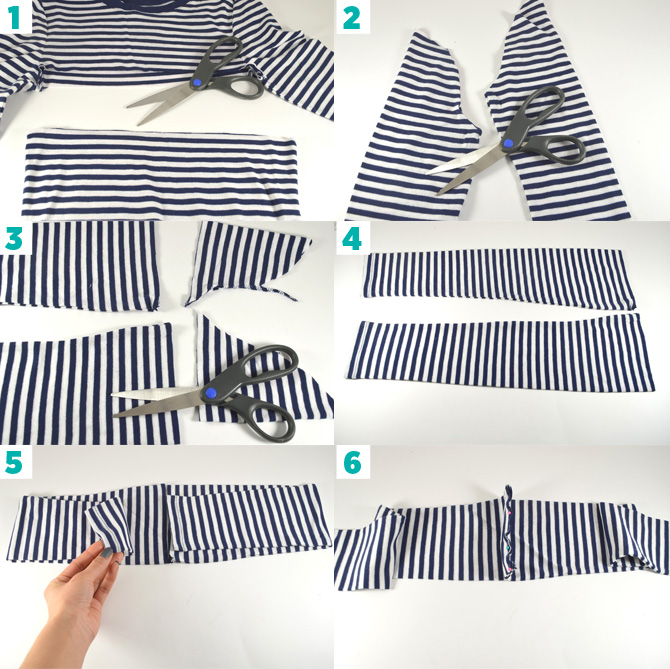 ADVERTISMENT - CONTINUE READING BELOW ↓
Step 1. Cut off the top portion of the shirt, starting at the underarm. If your shirt is also striped, use a stripe as a cutting guide. 
Step 2. Cut the sleeves off from the top portion, right along the seam.
Step 3. Cut away the curved shoulder parts so that there's a straight edge at the end of each sleeve.
Step 4. Your arm sleeves should look like this.
Step 5. The two sleeves are what you'll wrap around your shoulders. This photo shows how the sleeves should be placed in order to do just that. The widest ends will be sewn together. Fold them in half so that the opposite ends (the sleeve openings) meet in the middle. You'll also be sewing those together.
Step 6. Pin the wider ends together, with the sides facing each other.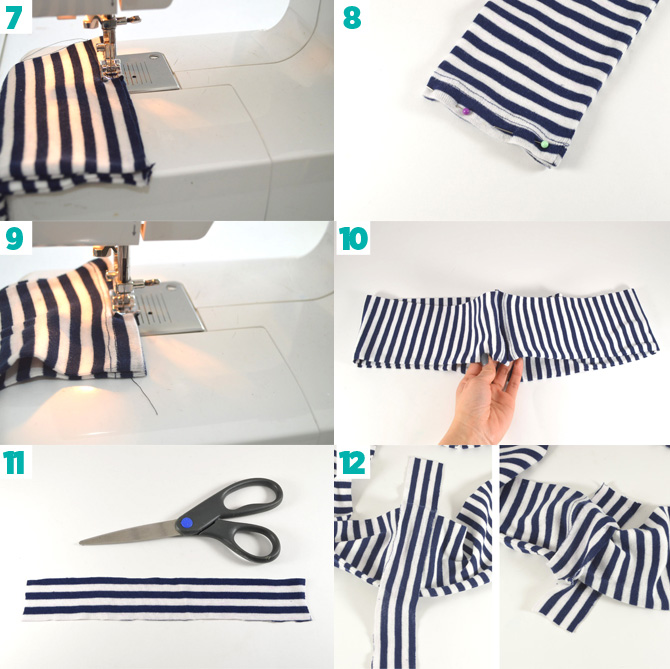 ADVERTISMENT - CONTINUE READING BELOW ↓
Recommended Videos
Step 7. Sew!
Step 8. Pin the sleeve openings together.
Step 9. Sew. Tie off the threads and cut away the excess.
Step 10. The finished product should look something like this.
Step 11. From your leftover fabric—cut a strip measuring at least 10 in (25.4 cm) long and 1.5 in (3.81 cm) wide.
Step 12. You'll be tying the leftover fabric around the part where the two sleeve openings were sewn together. Wrap the ends under.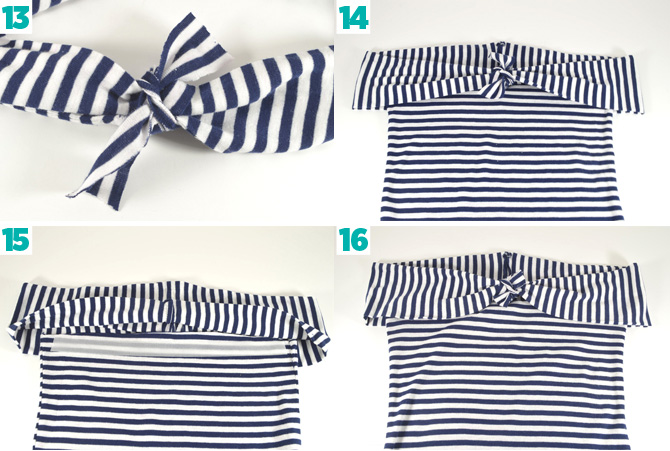 ADVERTISMENT - CONTINUE READING BELOW ↓
Step 13. Bring the ends back over to the top and tie a knot. Wait until later to cut away the excess—just in case any changes need to be made.
Step 14. Remember the torso portion of the shirt that you set aside? Bring that back and lay it in between the shoulder wrap. Both pieces should overlap about 1.5 in (3.81 cm).
Step 15. Kirsten used fusible webbing tape to stick the fabric to the other part of the shirt, but that might not be available in the local crafting stores. Y'all can use fabric glue to stick the pieces together! Or better yet, just sew the pieces together.
Step 16. Your finished product should look like this!
Doesn't it make you want to go yachting?


***
For more DIY Style ideas, hop on over to Kirsten's blog and get crafty!
EXPLORE COSMO