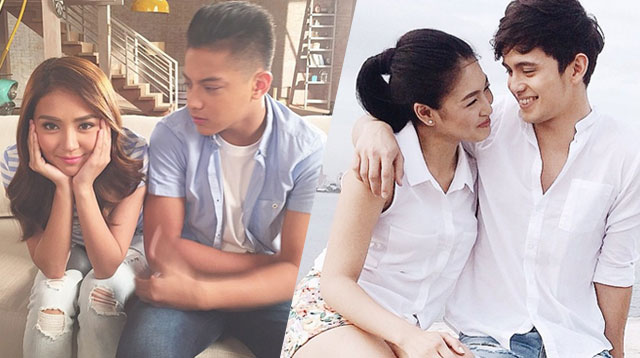 INSTAGRAM: (KATHNIEL) kathniel_kathniel, (JADINE) jadineland
Fact: We really can't get enough of our idols! But when our stalking-slash-fangirling ways aren't enough to express our kilig and let all the #feels out, the next move is obviously to channel our favorite love teams IRL.
A quick and simple way to do that? Coordinating clothes with the bae, of course! Here, five outfit ideas—tried and tested by the #loveteams of our lives—for you and your beau to try.
1. Seeing stripes
Probably the most basic of them all, but it really works like a charm. Stick to a pastel palette to keep the look fresh, then decide who's gonna wear the stripes.
Continue reading below ↓
Recommended Videos
2. All layered out
You don't need to wear the same print or color to show that you belong together! A staple concert or movie date look, piling on layers is a great way to dress up his shirt and your crop top. Have fun playing with proportions!
3. Black market
Just how do you make a non-color interesting? Easy! Go for something structured a la JaDine, or mix and match textures and prints the LizQuen way.
4. Clean slate
Ease your way into couple dressing by going for white! It doesn't make it too obvious that you and your boy are trying to twin, but still creates a cohesive look.
5. Matchy matchy
If you're the type to wear your heart on your sleeve (or rather, your entire OOTD), here's how to tell the world that you guys are a couple. Make heads turn with floral-on-floral a la LizQuen, or sport the cool streetwear-inspired look that celebrity couples go for.
6. Short and sweet
The quintessential summer date look: a floral mini dress or shorts for you and relaxed denim for him. Hitting all the right notes in the cutesy department, don'tcha think?