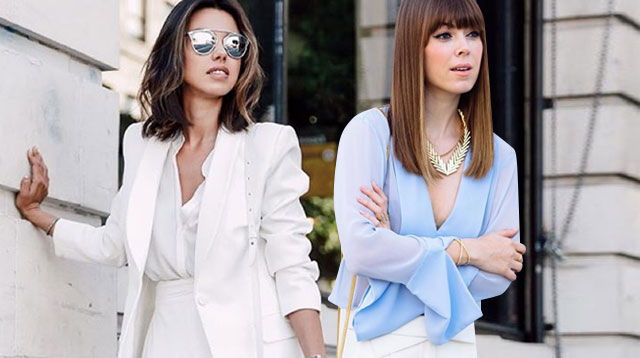 INSTAGRAM: vivaluxuryblog, margoandme
There's nothing professional about looking sweaty and sabog when you get to the office. Just imagine coming face to face with an important client and looking like you just fell into a pool. Pretty? Definitely not.

But staying fresh despite the heat IS a real, concrete issue when you're working five days a week in the middle of summer. Just what do you wear to the office? We've got styling pegs below!

1. White out
When temperatures rise, it makes a lot of sense to reach for light colors—and white is just about the lightest shade in existence.
Continue reading below ↓
Recommended Videos
2. Peep show
Crochet or lace fabrics come equipped with tiny holes that let breeze in, and you need a lot of that! Keep it work-appropriate by choosing the right silhouettes and lengths.
3. Crop it like it's hot
Slim black trousers, as professional as they may be, just aren't as comfortable in the summer as, say, voluminous culottes that leave some skin exposed.
4. Bring on the boho
A lightweight lace-up blouse is a warm-weather alternative to conventional collared button downs. Try it with a denim midi skirt for the right balance between cool and corporate.
5. Let it slip
If you really must stick to black or other dark colors, try a feather-like slip dress topped with an easy blazer.
6. Yes, you can layer
You might think layering is a ridiculous idea in the summer, but hear us out. A sleeveless dress becomes usable for the office when layered over a weightless blouse.
7. Float away
Sheer fabrics that won't add bulk are heaven-sent in this warm weather. Cut and silhouette are important, too, which is why a low-neck, long-sleeved style totally works.
8. Easy does it
Consider shapes that fall away from your body, so you won't feel suffocated. A slightly cropped tee paired with relaxed trousers and strappy sandals works outside the office, too.
Follow Patricia on Instagram.