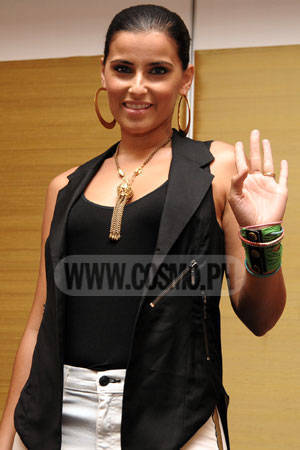 Over a decade ago, a young Nelly Furtado debuted her hit single "I'm Like A Bird", rocking a tank top-and-maxi denim skirt combo in the music video for the song. Most of us would cringe at the ensemble today, but there's no denying it was the height of cool back then.

Fast forward to today. The Grammy Award-winning songstress is making a comeback into the music scene after a short hiatus--and is doing so in style. She has long outgrown the urban hippie garb of her younger years, now choosing to flaunt her sexy curves in skinny jeans and killer pumps. You can still make out traces of the bohemian babe who breezed into the scene in 2000, but she now wears her boho streak in a more subtle and modern way, an evolution you can see in her new album The Spirit Indestructible.

We caught up with Nelly at the press conference before her Manila concert on August 16, and got her to dish her fashion inspiration, her style evolution, and her two cents on finding one's own personal style.
Continue reading below ↓
Recommended Videos

What inspired your outfits for your concert?
There's a very spiritual and positive feel to the album so [my outfits for this tour] are modern but it also has a bit of an ethnic twist to it. I've been spending a lot of time in Africa over the last couple of years and I've been really inspired by the jewelry that I've seen. I'm actually wearing one of the bracelets today. Some of my specific travels around the world have inspired this album so I wanted to incorporate that into my show as well.

How would you describe your new album The Spirit Indestructible?
The Spirit Indestructible is a very positive album. I call it a friendly punch in the face because the sound is aggressive, loud, fast and impactful, but the message is more friendly and positive.

How has your style evolved through the years?
I grew up in Vancouver, BC, and it's kind of known for its hippie and bohemian style, so I have that going on. I also grew up in a family of seamstresses so I was lucky enough to have that. Even my prom dress was made for me by my auntie. I used to draw everything I wanted and she would make the dress for me. I think my style is like hippie-meets-prom queen-meets flamenco dancer (laughs).

What advice can you give to young women finding their own personal style?

To find your personal style, you kind of have to go and see what's out there. You have to experiment with it and be fearless. For girls I think being confident is important. When I was a kid I remember trading jeans with my friends—boys and girls. I used to wear those cropped colored jeans and we'd meet earlier in the hallway and trade them. Or I'd borrow my big brother's plaid shirt. I also took a lot of my style tips from the music that I liked. I used to love the band TLC and I remember I dressed like them for a couple of years with my friends. It evolves over time, I guess. I would say though the most important thing is feeling like an individual, because if you have that, it doesn't really matter what you're wearing; it's more of the confidence you have to pull it off.

Launch the gallery to see photos of Nelly Furtado at the press conference prior to her Manila concert!
2133