Forget skintight pants everyone, because the '70s are back. Which means, the flared jean is your go-to denim style this S/S 2015!

According to Mary Bruno, Head of Design of J Brand, "The one style you must go out and buy for spring is flares. It's my favorite silhouette to update your spring wardrobe. Any kind of flare will do—high-rise, mid-rise, or trousers. It's best to have a couple of different inseam lengths to modernize the look—shorter inseams for sneakers and flats, and longer inseams for heels [via WhoWhatWear.com]."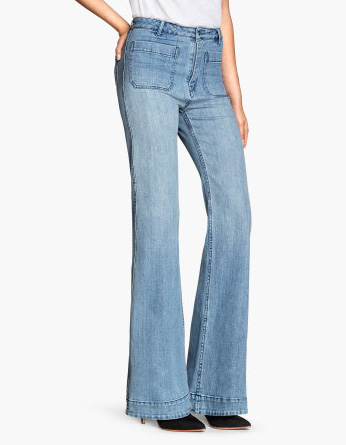 Wide-leg jeans, P1,190, H&M
The good thing about this denim trend is that everyone can wear it—yep, even petite girls. Just make sure you pair your flared jeans with heels, so the ends slightly graze the floor. If you're not a heels kind of girl, pairing the jeans with sneakers or flats would work, too—just make sure the length is long enough so your footwear isn't seen so much (this will create an illusion of length).
Continue reading below ↓
Recommended Videos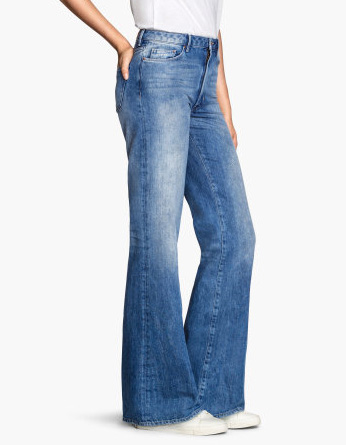 High-waisted jeans, P1,490, H&M
"When you have the cut of a flare right—even if you don't like flares and you think you will never ever wear a pair—you cannot deny that you look great," said Chloe Lonsdale, founder and chief creative officer of MiH Jeans [via Vogue.com]. "It makes your legs look like they come from under your arms, it's super slimming, super leg-lengthening, and you just feel great in them. It gives you a sense of something that you don't get from a skinny jean."
Of course, flared jeans are lot more harder to style than regular skinny jeans. Skinnies can be paired with absolutely anything in your closet, while flared denims require a little bit more of, uh, effort. Our advice? Since you're already trying a trendy bottom, go for a classic top—a striped boatneck shirt, a white cotton button-down, a V-Neck tee, a chambray polo, or a sweater.
So does this mean skinny jeans are dead? Not quite. Skinnies are now considered a classic denim style, so we don't think they're going anywhere soon.
Follow Sandra on Twitter.