Upon trimming down the many wedding gown pegs you fell in love with online, do you constantly find yourself thinking: "Bagay kaya 'to sa'kin?" The all-too-familiar solution for that is to "[figure] out what works for your shape," renowned local designer Francis Libiran tells Female Network. 
Think about it: How many times have you picked up a handful of pretty dresses at the mall, tried them on, and think something feels "off"? It could be that the sleeves are too short or the cut is too low for your waist—this only goes to show how important it is for you to at least have an idea on what cut, neckline, and silhouette works for your body in order to highlight your best assets. Of course, these little dress details can be baffling for any bride-to-be. 
So to guide you, we tapped Francis Libiran—a celeb-favorite designer who has been in the industry for two decades—for his expert advice on the most flattering wedding gown styles, according to one's body type: 
ADVERTISMENT - CONTINUE READING BELOW ↓
For petite Pinays: Serpentine or A-line gowns
"We would normally recommend serpentine gowns for our petite clients who have fuller hips," Francis shared. Serpentine is a hip-hugging silhouette with a flared bottom. This shape beautifully accentuates the bride's curves and as Francis points out, the low skirt creates the illusion of a long and lean stature, making "them look taller, not shorter." 
Another flattering option? Try "A-line gowns for those who don't want to make their waist look small." Unlike dramatic ball gowns, an A-line silhouette has a flowier, more relaxed skirt. It effectively adds volume to your waist without awkwardly cutting off your petite frame. "If you're petite, don't go for a ball gown since it will [shorten your figure]," Francis advised. 
ADVERTISMENT - CONTINUE READING BELOW ↓
He added, "We also do not recommend them to wear a high-low silhouette, such as the mullet skirt, that has an [asymmetrical] hem with a short front and a long back. This will make you appear shorter because the length of your leg will be more noticeable."
For small-chested women: Detailed, sweetheart neckline 
"For our small-chested clients [who want to accentuate their bust], we typically create some volume to the bust area by adding details like structured draping or layering. [This] will accentuate their chest area, especially when they do a side view shot or when they are seen from afar," the designer shared. 
On the other hand, if you're the type of bride who likes to keep things simple and fuss-free, Francis said, "Without the use of structured draping, a sweetheart neckline with our custom inflatable bra that pushes the bust will be enough [to maximize the volume in your] chest area." 
ADVERTISMENT - CONTINUE READING BELOW ↓
For the busty lady: Off-shoulder or Sabrina neckline 
"The most popular neckline that our busty clients prefer is the off-shoulder cut," Francis tells Female Network.
However, if you're not comfortable with the cleavage exposure, Francis suggested that "you can go for a Sabrina neckline, [similar to Meghan Markle's], that's made of see-through mesh fabric. With the help of the mesh, any deep cleavage can be covered with our intricate details, making our bride comfortable on her wedding day." Mesh fabrics also provide more support for the bust!
On deciding between going for a ball gown or a body-hugging silhouette: 
Francis reiterated, "The best way to [find] your dream dress is by figuring out what works for your shape first. Your body figure is the key to finding the best silhouette and neckline cut that can highlight the assets you want more emphasis on."
ADVERTISMENT - CONTINUE READING BELOW ↓
Still torn between having a ball gown and a fitted gown? "A detachable skirt may offer the best of both worlds," said the designer. "Most of our brides prefer a wedding gown with a detachable skirt since they can have two different looks on their special day. They can wear a ball gown-shaped detachable skirt during the church ceremony to add a more formal ambiance while walking down the aisle. During the reception, they can remove it to flaunt their figure and to be able to freely move around in entertaining the guests."
Clearly, Francis understands a woman's body extremely well; it's no surprise that the celebrity-favorite fashion designer has been on top of every Pinay's mind when it comes to bridal gowns—even more so for grand, intricately embellished creations. If you're planning to invest in a custom-made Francis Libiran wedding gown, be prepared to shell out at least P300,000.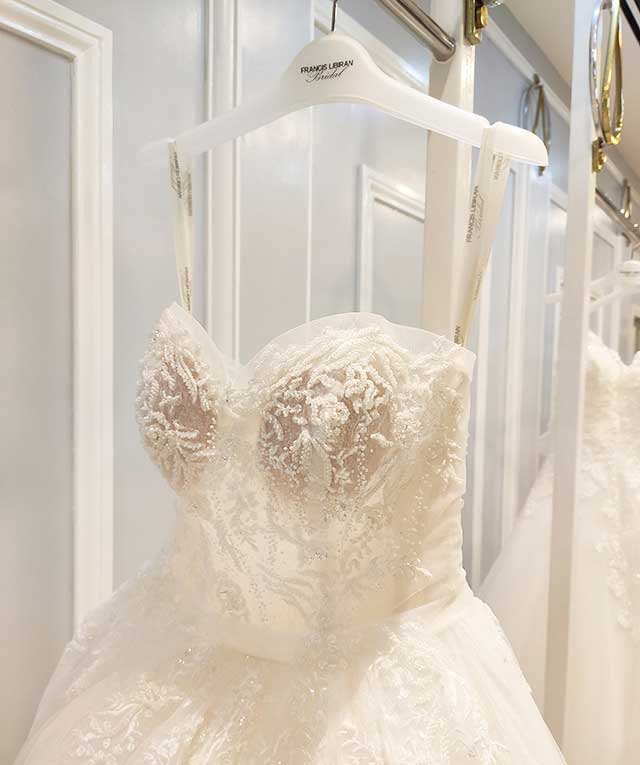 However, the custom-made route isn't the only way for you to wear his luxe creation on your big day. For the brides who are on a budget or who are simply pressed for time, Francis also offers ready-to-wear gowns at his boutique in Greenbelt 5, with rates ranging from P88,000 to P198,00.
ADVERTISMENT - CONTINUE READING BELOW ↓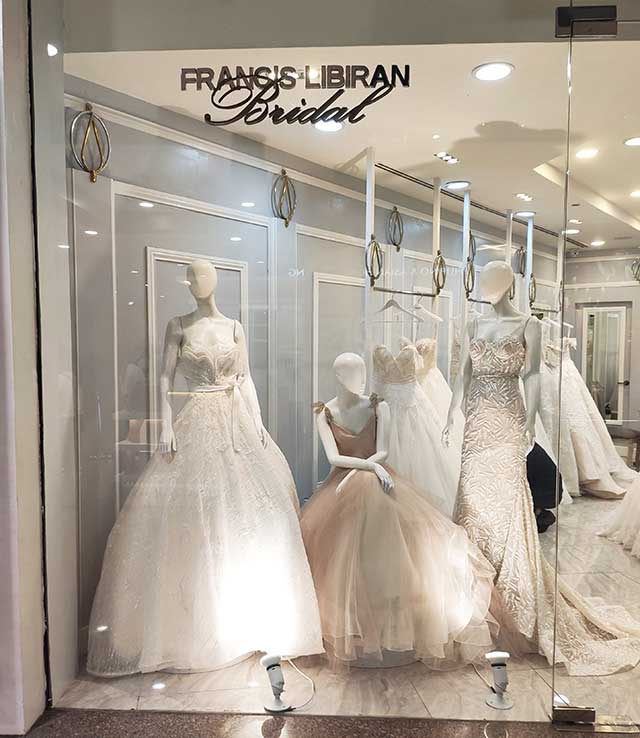 What many don't know is that Francis has a made-to-measure option for his brides. Basically, it's just like splurging on an RTW gown that you can fit in-store but instead of coming home with a secondhand creation, a brand new version of that ready-made dress will be crafted for you. This will spare you from getting a ready-to-wear gown only to end up with many stressful alterations! 
As Francis further pointed out, you can subtly customize the made-to-measure dress; you may request for add-ons like sleeves or embellishments. 
To know more about Francis' ready-to-wear creations—including suits—you can contact his bridal team at 358-4731 or (0917) 506 9922. You can also reach them through email at francislibiranbridal@gmail.com. Francis Libiran Bridal is located on the second floor of Greenbelt 5.
Meanwhile, for custom-made wedding gowns, you may call to inquire at 416-9098 or 823-1003. You may also email them at libiran.francis@gmail.com or visit their studios at 35 Legaspi Rd., Philam Homes, Quezon City or at Suite 232 of The Peninsula Manila, Makati City.