Q: Hi, Cosmo! I got invited to a beach wedding next month, and I'm having a hard time picking out an outfit. My friend is literally getting married on the beach. With sand! Should I wear heels or ballet flats? What kind of a dress code is "beach formal?"
A: I love beach weddings, because they're really easy to dress up for!
While there's no one true dress code for these types of weddings, the general rule is that you should stick to loose, flowy maxi dresses in bright or pastel colors (or florals. You can never go wrong with florals!). Not only do maxi dresses look great in photos, they're also loose enough so you don't feel like you're dying from the heat.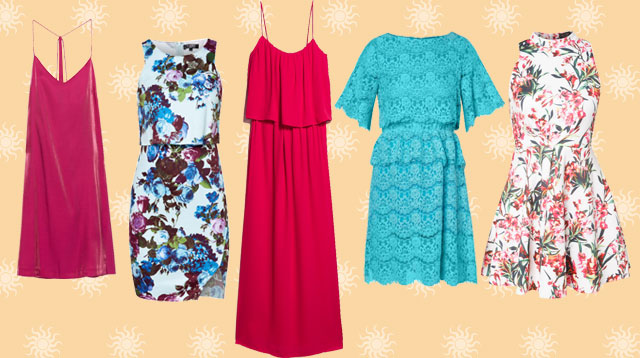 These are great pegs (from L-R): Satin dress, P995,  Zara; Midi dress, P909, Zalora; Maxi dress, P2,950, Mango; Sheer lace dress, P1,189, Zalora; Floral dress, P779, Zalora
Continue reading below ↓
Recommended Videos
Steer clear from frocks that are either too shiny or super embellished. Remember: This isn't YOUR wedding. So the focus should be on the bride; not on you. If you want the attention to be on you, then YOU should get married. I'm serious!
If you really want go for metallics, because they are your *~thing~*, use an embellished clutch as an accessory. Or go for super-thin bracelets—and stack 'em together.
Short dresses are great, too, but ask yourself, "Is this something I'd wear when I go to Valkyrie? Or a club, in general?" If the answer is yes, find a new dress. I really hate it when I go to beach weddings and I see girls in skin-tight dresses, because it's the beach! The sun is out; it's so hot; and the sea is literally three feet away!
As for your shoes, go for strappy sandals—not ballet flats. Sand goes inside closed shoes, and you don't want to spend the whole ceremony removing your shoes just to get all the sand out. Sobrang walang poise 'yun, girl.
Follow Sandra on Twitter.