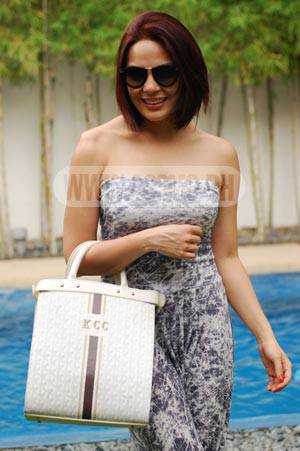 Summer is all about letting loose and having fun under the sun, and the phenomenal KC Concepcion is making sure her summer lives up to that. With her fresh new look, bikini-ready body, positive outlook, and brand new gig as host of The X Factor Philippines, KC demonstrates how a truly fearless Cosmo girl moves on from heartache by embracing all the joys life has to offer.

The 26-year-old welcomed summer with Cosmo, appearing in her first bikini shoot for a magazine cover, looking toned and uber confident. She was in full summer mode even behind the scenes at our poolside shoot, happily splashing in the water, chatting with the crew, and singing (and dancing) along to feel-good tunes she brought to the set (Beyonce and David Guetta songs were some of her picks).

Even the clothes she wore at the shoot screamed summer love. After the shoot wrapped up, KC changed into a chic strapless tie-dye jumpsuit that showed off not just her fiery red locks but her super sexy arms and shoulders. She also toted her customized white Goyard bag that was packed with all her daily essentials, including gadgets, makeup, and jewelry from her family and fans.

One particular item that caught our eye was a pocket notebook filled with hand-written musings and inspirational quotes. She let us leaf through the pages and even pointed out one of her favorite lines: "The past hurts, but you have two options: You run away or face it." Take a page out of this strong woman's (note)book and find your own happiness this summer!


Launch the gallery to see all the things we found in KC's bag. You can also check out her purple Chanel bag, which we featured last year.

Grab a copy of the March 2012 Summer issue of Cosmopolitan Philippines with KC Concepcion on the cover--in stands NOW! Watch behind-the-scenes footage here and flip through the e-magazine teaser here!

Continue reading below ↓
Recommended Videos
1852