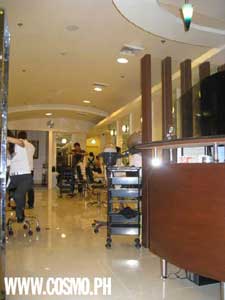 Where To Go
Visit Acqua Salon at 2/F, Mindanao Wing, TriNoma Mall (916-7558).
Nothing But The Best For A Deity
Maybe you're going through a breakup and you just need a beautiful new look to mark a fresh start. Or maybe you're simply tired of your blah hair that's neither perfectly sleek nor sexily wavy and want to go for either of the glamorous extremes. After reading our reviews of the
Diva
and
Rock Star
treatments, and finding yourself still wanting more, then you probably should get a
Goddess
package, which lumps together
a fab haircut with either a rebond or digiperm
. For whatever reason—or option you choose—you definitely deserve to look ravishing.
Time Is Of The Essence
Cosmo chicks would know that you do need to spend time to look extra beautiful, so be prepared to spend, well, roughly four to six hours in the salon, especially if you have long, thick hair. Arm yourself with a long novel, back issues of Cosmopolitan, or your laptop, and you really wouldn't notice the time. By the time you look up, you have a glamorous new look.
Immaculately Sleek And Straight
I had my hair rebonded last year, when it was just shoulder-length, and now that its length has doubled, I'm now stuck with half-rebonded, half-wavy hair—which I often pull back in a ponytail. Not a very glorious crowning glory. My busy schedule also doesn't allow me the luxury of ironing my hair every morning, so I simply had to get the rebond option of the
Goddess package
to make my hair very low maintenance—just wash and let dry to have instant shampoo-commercial hair (which doesn't look
buhaghag
even if I often forget to comb during the day).
My salon day began with a soothing shampoo session. Then my regular stylist, Terry, gave my side-swept bangs a trim—shorter than my usual since she said it would lengthen some more when it's rebonded. My shorter bangs also gave me a younger, more chic appearance.
She then proceeded to apply the rebonding treatments. What I love about their rebond is how my hair
doesn't
look
unnaturally
straight or flat. After the first washing (which is three days from the treatment application), I had soft, straight locks that beautifully frame my face. I get compliments for my hair every time.
Stellar Shine
Since my hair is a bit dry from last year's rebonding and my roots are beginning to show, my stylist recommended that I get a cellophane treatment to give my straight tresses a boost of shine and subtle hue, to even out my hair color. I picked a dark brown shade that, mixed with my old hair color, gives my crown a subtle reddish brown undertone that looks pretty (and shiny, of course) when hit by light.
Super Sulit Price
The Goddess Package starts at P4,000 for short hair, which is totally reasonable considering how much this treatment and cut would usually cost elsewhere (you can save up to P2,280 for long hair). You can also consider adding a Cellophane Treatment as I did (for an additional P700 for short hair) to make your sleek crowning glory glow even more. Be sure to set an appointment when getting this treatment, given the amount of time you spend and the number of customers asking for it.
See the finished product (my immaculate new hairstyle!) plus an exciting promo on the next page.
[nextpage]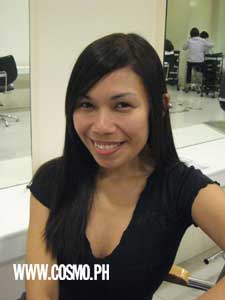 FREEBIE TIME:
We loved this treatment so much, that we'd love for you, our dear Cosmo readers, to try it for yourself, too!
Just post your answer as comment telling us why you want a Goddess 'do. Be sure you are logged in so we can easily trace your real name and email address (make sure it's valid) to contact you if you are one of the winners. If you're not yet a registered member, you can opt to register
here
.
We will be
giving only TWO registered users with the best comments ONE gift certificate for a Goddess Package each
, where you have the
option to avail of 1) a haircut and rebond OR 2) a haircut and digiperm treatment
. But wait, there's MORE! We'll also
give FIVE registered users who gave great comments ONE gift certificate each for a Princess Package
, which includes a
haircut and cellophane treatment
. Isn't that great? Keep checking this post (and your inbox) to see if you've won! You have until next week to post your comments.
Continue reading below ↓
Recommended Videos