Cosmo Girls have great hair. One look at our Instagram account and you'll know what I mean. There's team straight and silky (led by Cosmo Editorial Director Myrza and her signature blunt bangs) and team sexy-messy (Associate Beauty Editor Regina rocks this look so effortlessly).
And then there's me. Up until two weeks ago, my hair was a hot mess. No, scrap that. It was a mess, period. Dry, frizzy, unmanageable, unhealthy…I could go on and on. I'm pretty low maintenance, but the crapola state of my hair was affecting my self-confidence. So when I heard that L'oreal Professionnel was launching a new service that promises to straighten and repair hair at the same time, I said "Game!" right away.
I went to Bench Fix Glorietta and tried the Steam Bond treatment. There are two choices depending on the look you want: Ultimate Straight Smoothing if your peg is shampoo-commercial-worthy straight locks, or if you want more natural movement like me, opt for Natural Straight Smoothing.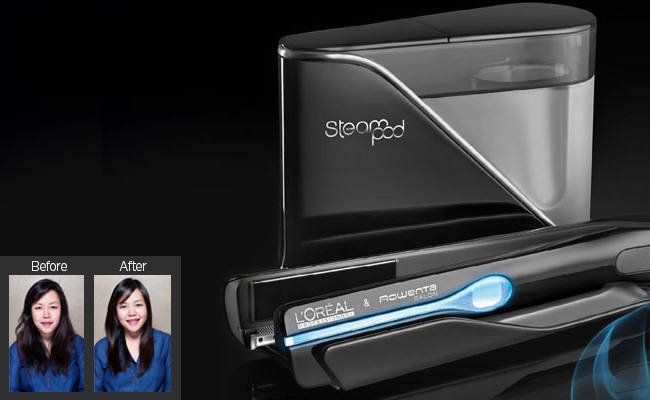 What makes Steam Bond different from run-of-the-mill hair straightening services is this new tool they use called the Steampod. See, a standard hair iron can produce a burnt effect. Translation: Rough strands, dry ends, less shine, and flyaways galore. Meanwhile, the Steampod delivers pressurized steam, not direct heat, to gently open up the hair cuticle, delivering nourishing treatment to the core and seal the ends for a flawless finish. Couple that with Pro-Keratin steam-activated products, and you're ready to face the next six months with wash-and-go, gorgeous hair.
ADVERTISMENT - CONTINUE READING BELOW ↓
Yup, I'm a believer. My hair still looks sleek after that crucial first post-treatment wash. The same way I now follow a three-step skin regimen, I care for my hair by 1. Cleansing using X-Tenso Shampoo 2. Conditioning using X-Tenso Hair Masque 3. Finishing off with L'oreal's Mythic Oil before I step out of the house.
Do it, chica. Having fabulous hair means there's one less thing to worry about. Deets are here: www.facebook.com/lorealproph
ADVERTISMENT - CONTINUE READING BELOW ↓
Recommended Videos
EXPLORE COSMO