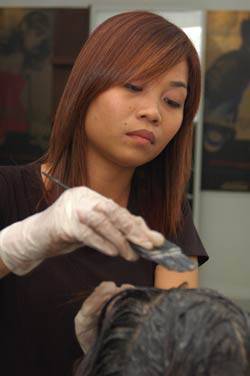 We know how much you love getting your hair done at the salon—nothing short of getting a perm, rebond, color treatment, and more. And we all know it doesn't stop there either—hair styling products and tools play big roles in your everyday beauty regimen, too. Of course, every Cosmo chick knows hair plays a big role in improving (or ruining) your looks, so you must invest time and money on caring for it.

After all that stress you put on your tresses just to make them as beautiful as can be, your strands in fact need a break from all the chemicals and heat you apply on them. Otherwise, you risk damaging and drying your hair. Rejuvenate and maintain healthy hair by getting a lush treatment like L'Oreal Serie Nature Cataplasme Hair Treatment.

Where To Go: Runway by Aura Salon 2/H Capitol Greenstreet, Capitol Golf Club, Capitol Hills Drive, Quezon City (952-2539).

Pampered Tresses
To repair and boost your strands, the treatment involves covering your hair with the L'Oreal Cataplasme Fig Hair Mask that's mixed with spruce powder from root to tip and then wrapping it with plastic to seal in the mask for 20 minutes. As you wait, the salon attendant gives a relaxing neck and shoulder massage to soothe you even more as your hair gets the same VIP treatment. After hair is washed and blow dried, you immediately feel that your crown is softer, energized, and full of shine—with a yummy fruity scent to boot.

How Much To Shell Out?
The price will depend on the length of your hair. But on the average, it will cost around P900. If you want to know exactly how much you'd have to budget for this treatment, you can call the salon in advance and tell them up to how long your hair is so they can give you the cost estimate.
Continue reading below ↓
Recommended Videos