Human Nature has officially opened their refilling stations! You can now restock your Human Nature detergents and dishwashing liquids in their Commonwealth and SM North branches without having to repurchase new bottles. With a goal to make refilling mainstream (aka standard practice and more accessible to everyone!), the brand partnered up with environmental groups and eco-conscious brands like Together with Save Philippine Seas, Marine Wildlife Watch of the Philippines, and WWF Philippines.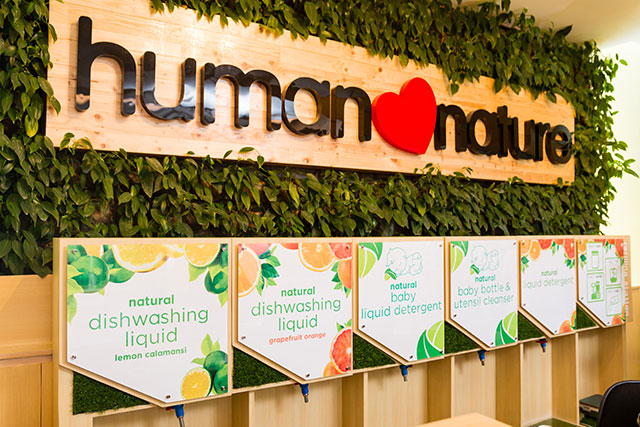 I got to try the refilling station firsthand, and here's what happens:
Bring your clean, empty, and dry Human Nature Home Care bottles (specifically the Human Nature Liquid Detergent (950ml) and Dishwashing Liquid (500ml and 1L) to the refilling station. Take note, Human Nature will only accept their own Home Care bottles for safety. The bottles are made from a material that has passed the brand's testing standards, meaning they're safe and compatible with the formula of their products.

Make sure your bottles are empty and clean. Human Nature only accepts used Human Nature bottles for safety. Retty Contreras

Continue reading below ↓

Recommended Videos

The Human Nature staff will weigh your empty bottles.
They'll refill your bottles with their available home care products with a minimum of 500mL. Right now, the available home care products available for refill are:  Human Nature Natural Liquid Detergent (P289.75 for a 950ml refill), Human Nature Natural Dishwashing Liquid (P169.75 for a 500ml refill; P339.75 for a 1L refill), Baby Bottle & Utensil Cleanser (P189.75 for a 500ml refill; P369.75 for a 1L refill), and Baby Liquid Laundry Detergent (P289.75 for a 950ml refill).

The Human Nature team will weigh your newly-refilled bottles and put a sticker that indicates the price, batch number, and expiration date of your product. Take note, you can keep refilling the same bottles each time you refill—Human Nature will accept them as long as they're intact.

Newly-refilled bottles are labeled with important details (like expiration) for customer safety. Retty Contreras
Good news: The SM North Edsa and Commonwealth refilling stations are permanent—no need to worry about them being gone any time soon.
Even more good news: Starting March 30, all Human Nature bottles can be returned to all Metro Manila branches—they're working with a recycling facility to repurpose old bottles.
For more info about this wonderful new movement, check out this link.
Follow Retty on Instagram.