You've heard it before—beautiful skin starts from within. Treating your skin from the inside nourishes and hydrates it, giving you a glow no amount of makeup can match. Time to amp up that skin routine with these no-fail, no sweat, no-brainer tips.
1. Rest and relaxation
Need an excuse to hit the hay? It's not called "beauty sleep" for nothing. While you snooze, your skin works overtime to renew itself. Studies from Stanford University show that stressing out and missing out on some precious zzzs, causing the outermost layer of skin to break up and allow harmful bacteria to infiltrate the deeper layers of the skin. A little R&R will give your skin cells a chance to grow and replace old cells, an important factor especially if your skin suffers from sun damage.

2. Vitamin E
As an antioxidant, Vitamin E is used by our bodies to help maintain the health of our skin. This vitamin is so powerful that it can penetrate the layers of our skin and assist our bodies with natural wound healing, which helps prevent scars.

According to a study from Oregon State University's Linus Pauling Institute, Vitamin E absorbs the energy from ultraviolet (UV) light, which prevents UV-induced free radical damage to skin. Thanks to its emollient properties, this super vitamin helps speed up cell renewal, enhance complexion, and prevent wrinkles. Take this vitamin in capsule form or slather a Vitamin E-rich lotion to pamper your skin.

3. Collagen
You may not worry about aging skin now, but you'll thank yourself in the future if you start taking steps to combat it today. As we get older, our body's collagen production is reduced, resulting in wrinkles and fine lines.  Two separate studies in 2008 (one in Tokyo and the other in France) prove that collagen is the agent responsible for our skin's strength and elasticity. A group of older women who were made to take collagen supplements daily showed 91% increase in skin hydration, smoothness, and resilience.

4. Healthy diet
In a recent study on Acne Vulgaris, six researchers observed 1,200 natives of an island near Papua New Guinea and 115 hunter-gatherers in Paraguay and couldn't find anyone who had a single zit. The secret? "A diet that consists almost exclusively of protein, fruits, and veggies," says Loren Cordain, PhD, professor of health and exercise science at Colorado State University and lead author of the study. Refined sugars can spike your blood sugar level, which your body then will try to bring down by producing insulin, prompting our glands to work overtime and resulting in blocked pores and inflammation.

5. Good Hygiene
Sometimes beauty is really just skin-deep. The skin, your body's largest organ, is a vital barrier against pathogens that cause diseases. Keep your skin healthy by removing dirt and grime that clog your pores. Adopt a good daily skin regimen to remove dead skin cells, dirt, and microbes from your skin. Opt for natural and gentle cleansing products that will eliminate dirt and promote healthy and clear skin without the use of harsh chemicals.
Stress, humidity, and a fast-paced lifestyle can make our skin age faster. Even the intimate area is not spared from this natural occurrence. Since the vagina is oftentimes an off-limit topic even among us women, we neglect to talk about the best way to care for it. But the truth is it requires just as much attention as the rest of our body.
When we don't care for our intimate area, we risk having infections—and that's never fun. When sweat and oil build up, bad bacteria grow, leading to different skin (and even urinary) infections. Not only are those uncomfortable and embarrassing, but they can also become real medical concerns.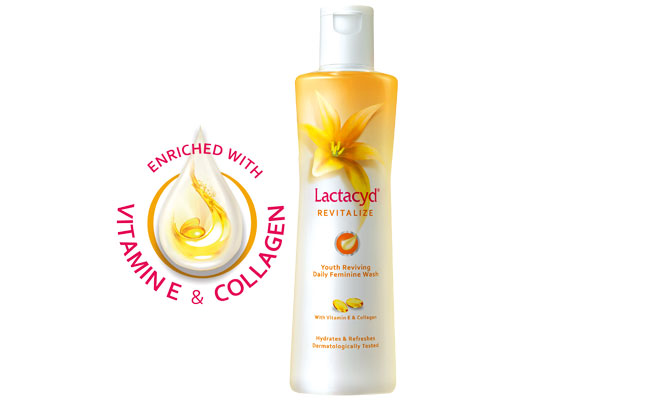 Lactacyd Revitalize keeps the intimate area fresh, clean, and healthy. As the very first feminine wash enriched with Vitamin E and Collagen, Lactacyd Revitalize helps soften and firm up the skin in the intimate area. Lactacyd is also safe and hypoallergenic for daily use.
Continue reading below ↓
Recommended Videos
EXPLORE COSMO