One out of three women between age 15 of 45 has scars – whether it be from childhood, teenage adventures, childbirth, or surgeries.
Thankfully, advances in technology have made it possible for scars to be removed with little or no trace. However, the best scar treatments available could also mean a trip to the surgical clinic or an expensive price tag.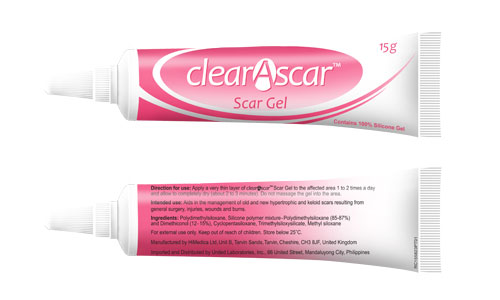 ADVERTISMENT - CONTINUE READING BELOW ↓
Now there is a scar treatment that is both effective and costs significantly less: Clearascar. Clearascar contains 100% naturally-occurring silicone—an ingredient that is safe to use and has been clinically-proven by various studies to improve the appearance of scars. It has been recommended by dermatologists and surgeons all over the world for its effectiveness, ease of use, and absence of side effects. The 2002 International Clinical Recommendations on Scar Management recommended silicone gel as "the first line of treatment in the initial management of scars and in the prevention of hypertrophic scars and keloids." With continued use, Clearascar can flatten and soften scars and reduce the redness, pain, and itchiness that come with it.
With surgical scar treatment costing anywhere between P10,000 to P50,000, not only is Clearascar effective and safe, it is also a more affordable alternative to expensive scar treatments.
 With the 100% silicone formulation in Clearascar, you receive the world standard treatment for your scars. 
Clearascar is available in leading drugstores nationwide at P399 (6g tube) and P724.95 (15g tube).