We all know the importance of oxygen in our lives—we inhale it to live! But did you know that having more oxygen in your system could do more wonders for you in the beauty department? An additional dose of oxygen helps your skin get that healthy-looking glow as it
assists in the production of collagen and elastin
.
[nextpage]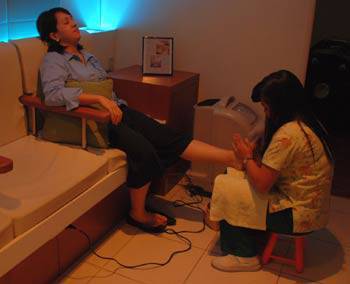 Where To Go:
Visit HBOT, Inc. at the 3rd Floor Festival Supermall, Filinvest Corporate City, Alabang Muntinlupa. Call 994-3305 for inquiries and appointments.
Claustro Calm:
Before the therapy session, your ears and lungs are examined and your blood pressure checked to ensure your safety before entering the oxygen chamber. At first, you may feel that being trapped inside the chamber for one full hour is not your idea of a beauty treatment, but at least you'll find that it's quite spacious inside: the chamber is 32 inches in diameter once fully inflated. Inside, you're free to move around, rest, or take a nap while reaping the benefits of pure oxygen under pressure. Not to worry: a qualified nurse is present at all times during your therapy session and can easily hear you from the outside in case you need assistance.
Beauty Benefits:
If you take the sessions frequently and continuously, the therapy claims to help rejuvenate your skin and body, have anti-aging advantages, assist in weight loss, help even out your skin tone, reduce the appearance of cellulite and wrinkles, and
aid in the healing process
of wounds and scars you may have acquired through a cosmetic operation or from visiting your derma.
[nextpage]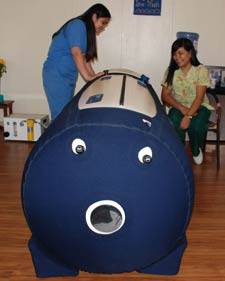 Medical Matter:
Having increased oxygen contributes to your health and well-being by boosting your energy level; promoting better sleeping patterns; curing migraines, headaches, and hangovers; heightening one's concentration, alertness and mental clarity; strengthening the immune system; making recovery from injuries, stress, strenuous exercise faster; and
improving muscle stiffness
.
Sitting It Out:
If you want to have some sort of trial, you can opt for their oxygen lounge, where guests inhale, through a nasal cannula, an increased percentage of oxygen (91-95% compared to the 21% we normally breathe). You can take it for 30 minutes or more to enhance relaxation.
Package Price:
Therapy treatments are priced at P1,260 (vat-inclusive) per dive session. But the more sessions you take, the lower the prices get: P1,150 for 10 to 20 pre-paid dives, or P1,065 for 20 and more pre-paid dives.
Continue reading below ↓
Recommended Videos