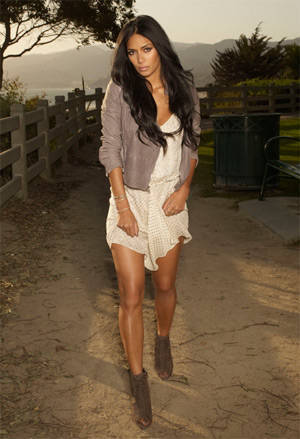 Fun, fearless, female—These three words describe Cosmo's cover girl this April, the prima Pussycat Doll, part-Pinay
Nicole Scherzinger
. Fierce and fabulous, the sun-kissed Hawaiian beauty is a shining symbol of girl power and an inspiration to Cosmo chicks everywhere. You probably know her for her daring outfits, for her strong, sultry voice, and for pop hits like "I Don't Need A Man" and "Don'tcha," but there's a lot more to the sexy singer than meets the eye. Cosmo gives you a crash course on everything Nicole.
She's half-Filipino on her father's side, and part Hawaiian and part Russian on her mother's side. Her surname "Scherzinger" comes from her German-American stepdad.


Being lead Pussycat Doll wasn't her first venture into the girl band biz. Nicole was actually part of Eden's Crush, the result of a reality TV show called Popstars. It wasn't a great experience, but she says it prepared her to be part of the Pussycat Dolls.


She says that her all-time celebrity crush is Johnny Depp.


"I used to be cripplingly shy," she tells the UK Daily Mail. "I come from a very religious, strict upbringing in Hawaii; my grandfather is a preacher. The first time I saw one of the stage outfits I had to wear for the Pussycat Dolls, I screamed."


Some of her favorite '80s songs are "Heartbreaker" and "Love Is A Battlefield" by Pat Benatar, "I Think We're Alone Now" by Tiffany, and "Toy Soldiers" by Martika.


Nicole was the inspiration for the 311 song "Amber," and appeared in the video. She used to date lead singer Nick Hexum, when she was still going by the stage name Nicole Kea. They were even engaged at some point, but broke it off in 2004.


She wishes she wrote "Imagine" by John Lennon because "it just answers so much. It's a legendary song, it was revolutionary, and it's timeless."


Nicole is the only Pussycat Doll who co-wrote tracks on their debut album, PCD. She helped American Idol's Kara DioGuardi with "I Don't Need A Man," and also co-penned "Buttons."


Girl power pop isn't all she's capable of! This doll can rock out, too. Nicole recently recorded a track with former Guns N' Roses guitarist Slash, and did a duet with Alice Cooper!


She and her boyfriend, former Formula One world champion Lewis Hamilton, are back together and going strong. They broke up earlier this year because, although they totally loved each other, their romance was a complication in their careers. It looks like nothing will get in the way of love, though. If the rumors are to be believed, they're engaged!

Continue reading below ↓
Recommended Videos