Effortlessly gorgeous and so handsome it hurts, Fabio Ide made posing with an eagle look easy at the Avilon Zoo in Montalban. It was harder than it seemed, though! "The eagle, it wants to fly!" he told the press in an interview, recounting his Cosmo experience with a smile.

The Brapanese (Brazilian-Japanese, FYI) hunk from Sao Paulo might have started out as a fly-in model, but he's looking to make his Manila stay a little more permanent. He's already broken into the showbiz mainstream, thanks to his co-hosting stint on Saturday comedy show The Comedy Bar (which he co-hosts with top funny-folk Eugene Domingo and Allan K.). It's not too much of a stretch to imagine even bigger projects in the future, especially since he speaks great Filipino!

Yes, ladies, Fabio is learning our language and he's getting so good at it that it's only a matter of time before he speaks it just as well as born Pinoys.

Since this year's Cosmo Men supplement and the much-awaited Bachelor Bash were all about being wild, we asked Fabio, what are the 10 things you wish girls did more often? Here's what he had to say: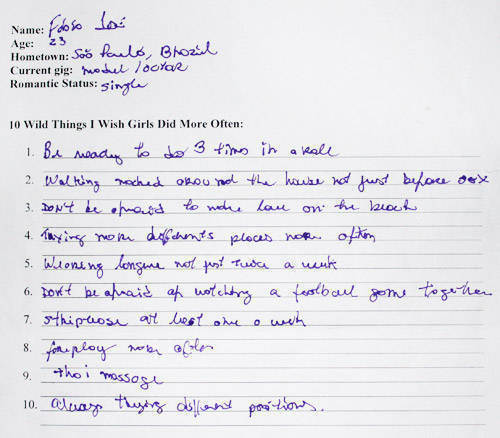 Fabio, we'll watch football with you anytime.

Click through to the Gallery below to check out our behind-the-scenes coverage of Fabio Ide's Cosmo Centerfold shoot! Watch his behind-the-scenes video, where you can also listen in on our chat with this irresistible Brapanese!


Grab the September issue of Cosmopolitan Magazine to see all Centerfolds! Andi Eigenmann is on the cover, while Sam Milby graces the cover of the Cosmo Men supplement--in stands now!


DISCLAIMER: No animals were harmed during the production of the Cosmo Men supplement. The handling of animals during the shoots was done with the supervision of trainers and animal experts from the Avilon Wildlife Conservation Foundation and Zoobic Safari.
683