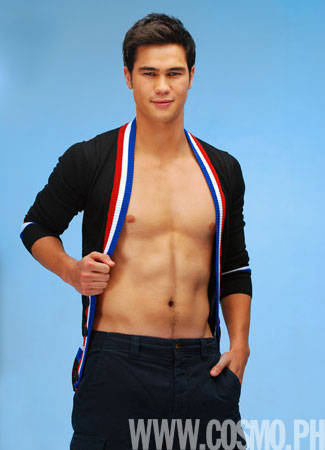 Phil Younghusband arrived on the set of his Cosmo Centerfold shoot unaware that he was going to be on the cover of this year's Cosmo Men supplement! It was only when we sat him down for his Cosmo.ph interview (watch it here!) that he found out he's our cover guy, and he was pleasantly surprised. "Really? I'm going to be on the cover?!" he asked smiling wide and blushing a bit.

We're sure you, however, were not surprised at all. This is actually the second time he'll be part of our Centerfold lineup (he was one of the 10 Centerfolds in 2009!). He's been in Cosmo and Cosmo.ph a lot over the past two years, especially this year, when the Azkals rose to fame.

And, with every new aspect of Phil we've unveiled, we know you've also grown to love him more. (Did you know he used to blog for Cosmo.ph?) You got to know his sense of fashion, witnessed just how passionate he is about football, and even saw what a day in his life is like! We just can't get enough of this Fil-Brit hunk!

Although we missed him at this year's Bachelor Bash (it was on the day of their mom's funeral), we'll satisfy your craving for Phil once and for all by giving you behind-the-scenes access to his Centerfold shoot and sharing with you this exclusive Q&A.

Read on to find out how much he's changed since his first stint with Cosmo, what he thinks makes him sexy, and what he loves about a woman (in case you didn't know, he is currently dating October Cosmo cover girl Angel Locsin).

How do you feel about being a Cosmo Centerfold again--and this time making it to the cover?

I'm very happy and very privileged. It's a nice feeling, and I thank everyone, the Cosmo team, for choosing me. I feel very blessed.

How much have you changed since your first stint as Centerfold in 2009?

As a person I don't think I've changed at all. But obviously, with the way football has blown up in the Philippines over the last six months, I think my status as a personality has changed. The way I go about things in my professional life has changed. But, I'm still the same person. As a professional, as a football player, as someone who wants to promote football, my ambitions have grown further and I believe I can do a lot more and influence people.

Are you planning to bring something new into the scene this year?

I don't know, I mean, who could have known last year that this would happen? I would never have guessed. Who knows what will happen in the next six months? Hopefully it will be just as thrilling as the last.

What are the three most important things in your life right now?

First of all, my family. It's good to have my brother [this time]. In 2009, [he wasn't here], so it's good to have him here now. Also my sister--we're breadwinners, so we have to look after [her] and support [her].

Then, my friends, our support group. With the way everything has blown up recently, it's important to have good people around you to keep you down-to-earth.

And third, my team. I wouldn't be where I am now without every single player--from the physical therapist, to the waterboy, to the coach, to the manager, to the players. Everyone's done their job, so without one person in the team, we wouldn't be able to have done what we've done. So family, friends, and my teammates.

What do you think is the sexiest thing about you?

I've heard this part of my body, that part of my body, I've heard lot's of different things. [But] for me, the sexiest part of my body is my eyes--they're hazel green. I'm sure a lot of people say it's their eyes, but I think mine are unique.

What's the best way for a woman to flirt with you?

Eye contact and confidence are very important. You let the person know that you're interested. If  you're too shy, you'll never let the person know how you feel...and they may feel the same way. So it's important to let them know--not in an obvious way, but in a subtle way.

What things about a girl really catch your attention?

Obviously, when you first meet a girl, it's the appearance, because you haven't [gotten to know] her yet, you don't know how she's like. It's important when you get to know the person to find things in common... When you get to know them, that could determine how far the relationship will go.

What should a woman wear to turn you on?

For me, it's about her being comfortable with what she's wearing. Whether it's a skirt, pants, jeans, or a sleeveless top... It's about her being comfortable with what she's in and feeling sexy herself. As long as she is comfortable, I'm comfortable.

How do you like to spend quality time with a girl?

I like it quiet. I don't like too many people around. I like to stay at home, watch a DVD, or have dinner somewhere quiet, [so it can be] just the two of us. That way, [we] can really get to know each other. I don't like to go where there's a lot of people, a lot of distractions. I like to be 100 percent concentrated on the date.

What little things can a girl do to make you feel kilig?

I don't think a girl has to go all out and do things... Maybe a nice gesture, a small gift for the sentiment, a lot of thought that goes into the gift. Maybe [it would be based on] something you have in common, or something that reminds you [of a shared] past experience. For me, it's just letting me know that they care, whatever it is, be it material or words, as long as they let me know that they care and they want to spend time with me.

What's the craziest thing you've ever done while traveling?

I'm not a very crazy person so I wouldn't know. A lot of the traveling I do at the moment is with the team. We're stuck in a hotel and there's not a lot to do, so we have to be disciplined, like eat the correct food... There's not a lot we can actually do. There's a lot of time to explore and be crazy. The Azkals are pretty crazy--a lot of jokes on the team.

What would be your ultimate fantasy vacation, if, say, you had your own yacht?

Maybe [I'd head to] Italy or somewhere romantic; somewhere you can't see everyday, maybe Egypt, to see the pyramids. Italy sounds nice and romantic, somewhere we can really remember our time together.

How could a girl fit into that plan?

If you're close to a person, you're automatically relaxed because you're comfortable with [her]. Whatever situation you may get into, you're with someone you're close to, someone you know, someone you want to be with. So for me, if you are willing enough to travel with [her] alone, then you should be comfortable enough that you'll be relaxed no matter what you do or what the situation.

Launch the gallery to view behind-the-scenes photos of Phil's Centerfold shoot.
Continue reading below ↓
Recommended Videos
1490