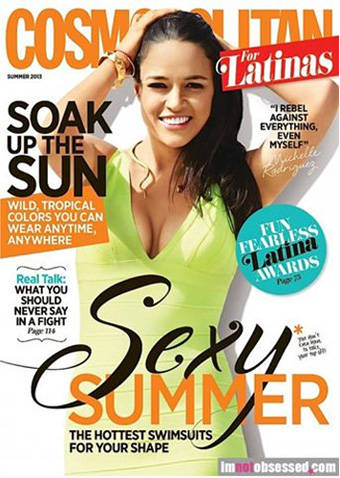 We're obsessed with femme fatale Michelle Rodriguez who recently showed off her bangin' body on the cover of Cosmo for Latinas Summer 2013.

The 34-year-old actress headed to Manila alongside her Fast and Furious 6 costars Vin Diesel, Gina Carano, and Luke Evans. Shortly after arriving yesterday (May 14, 2013), Michelle told reporters she's excited to experience what Manila has to offer. (Watch the video here!)

We're all hyped to see what she'll be up to during her stay. But for now, we're giving you five reasons why this Cosmo girl kicks ass:

1. She believes that doing the deed isn't just about f*cking.

"I don't have sex for pleasure. I do it because I like making love, and I like connecting with someone. I'm not that girl you can go and f*ck."

2. She's not just a pretty face with a sexy bod.

In between her cover shoot for Cosmo for Latinas, Michelle was reading The Economist. She says, "I'm concerned about the inflation in Asia."

3. She's oozing with confidence.

"I can make anything sexy. I'll wear a leather jacket and nothing underneath!"

4. She learns from experience.

"I had some bad moments. I partied hard. The world knew it. Just last year I had a time where I had a bad stretch. I'm like 'Oh no, lemme do something f*cked up now.' But then I'm like, 'okay, what am I doing to myself?"

5. She knows when to stop.

With five arrests from 2002-2006, Michelle decided a revamp was in order. "After my first paycheck for Fast & Furious, I got my license and went to racing school a week later. I'm 22 years old, I'm doing a 180 to catch up with a Ferrari on Hollywood Blvd. Yes, I'm an idiot, officially. [But] those days are over."
Visit Cosmo for Latinas for more on this story!