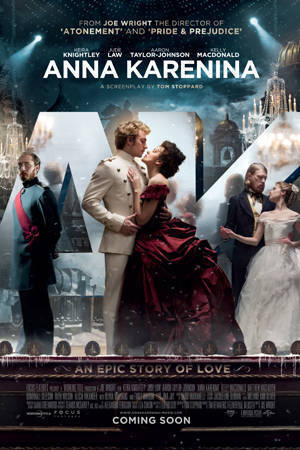 If you still haven't watched the 2012 movie adaptation of Leo Tolstoy's 1877 novel, now's your chance! Anna Karenina will be shown in Manila starting today (February 20, 2013) at Megaworld Lifestyle Malls. Here, five reasons why you shouldn't miss it.

1. Elizabeth Bennet (Keira Knightley) and Mr. Darcy (Matthew Macfadyen) reunite.
Fans of Pride and Prejudice (2005) will be delighted to see Keira Knightley and Matthew Macfadyen sharing the same screen again. But instead of playing stubborn lovers, these two take on the roles of unfaithful siblings to their spouses. Keira plays the lead character, Anna Karenina, while Matthew portrays her brother, Stiva Oblonsky. The rest of the cast is equally stellar: Jude Law is Alexi Karenin, Anna Karenina's saintly husband, and Aaron Taylor-Johnson is the young and handsome Count Vronsky with whom Anna begins a passionate affair.     

2. It's like Desperate Housewives, but Russian-style.  
Just like the scandalous television show, Anna Karenina delivers on drama, suspense, romance, and even a bit of comedy. The story is driven by Anna's whirlwind affair with the oh-so-irresistible Count Vronksy. As Anna's husband and peers learn more about the affair, Anna becomes the talk of the town, which ultimately takes a toll on her sanity. The film also provides instances of comic relief to lighten the tone of an otherwise heavy and dramatic plot.

3. The overall setting is spectacular.
Right from the beginning of the film, the audience is immersed in 18th century Russian theatre culture. The intricacy of the set design, luxurious costumes and jewels, and strategically placed props will make you feel like you're watching a live play.

4. Superb cinematography.
What sets Anna Karenina apart from other period movies is the way it was filmed. The movie was shot theatre-style which gives the illusion that the audience is part of the action. Many of the scenes are literally shot onstage, with seamless transitions and every movement perfectly timed, but still natural-looking.

5. Keira Knightley is in it—enough said.
Damn, this girl sure can act! You'll get your money's worth just to watch Anna transform from an honorable woman of high society into a shunned adulteress. Anna gives up her reputation, family, and even her sanity in the name of forbidden love. Keira's performance is unforgettable as she convincingly portrays a self-conflicted woman, who slowly loses her mind as she is further rejected by society.

For Anna Karenina's movie schedules at Megaworld Lifestyle Malls, click here!
ADVERTISMENT - CONTINUE READING BELOW ↓
ADVERTISMENT - CONTINUE READING BELOW ↓
Recommended Videos
EXPLORE COSMO