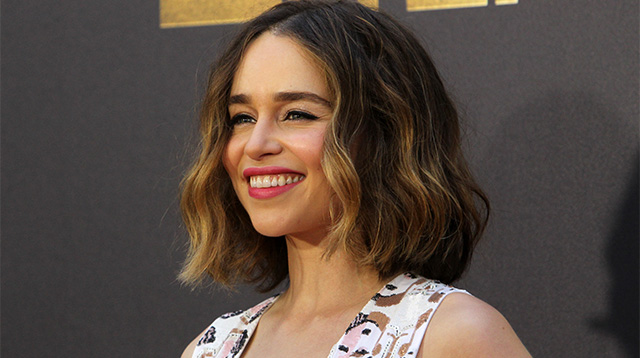 1. Her facial features are super unique.
Those big blue eyes and full lips are nothing short of stunning. Don't even get us started on her brow game! No wonder every khal, knight, and soldier falls head over heels for this Khaleesi.  
2. Check out that bod!
Nobody else can rock both tattered dresses and goddess-worthy gowns quite like Emilia. This is why…  
3. She was Esquire's 2015 Sexiest Woman Alive. With a body as hot as that, it's no wonder she seems so comfortable in her own skin.
4. She's versatile.
When she isn't being a badass queen on Game of Thrones, she's flexing her thespian muscles in other roles. The internet is going crazy right now because…
5. She's just so cute in the Me Before You trailer. Her character is awkward, funny, and has a quirky sense of style. This is going to be a rom-com heroine to remember!
6. Her British accent is just delicious.
Anything she says instantly sounds so sophisticated.
7. But she's great at imitating other accents, too! Check out her talent for accents on Ellen!
8. She can rock both the blonde and brunette look. No matter what color her tresses are, she always looks fly AF! Swerte!
9. She's the Mother of Dragons for crying out loud! As Daenerys Targaryen on GoT, she's fierce, fearless, and fiery. Yaaasss, QUEEN! 
Recommended Videos