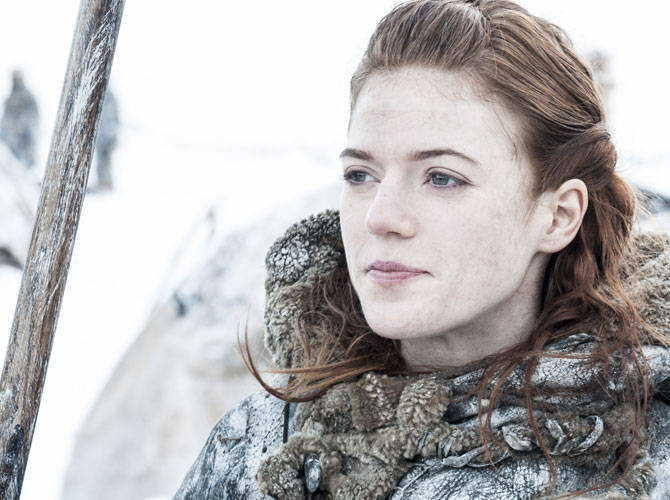 We're geeking out over Rose Leslie! She gives us the inside scoop on playing the fiery red-headed Ygritte, working with the most handsome Kit Harrington, and filming amid the breathtaking scenery of Iceland.

Q: Set the scene for your character at the beginning of the third season.

Rose Leslie (RL): At the end of the second season we left her on the cusp of going down into the Wildling camp and we pretty much take off from that at the beginning of season three. Jon Snow and I are entering the camp with our Wildling crew flanking us.

Q: How would you characterize the relationship between Ygritte and Jon Snow?

RL: The relationship that they have is incredibly tempestuous. I think that she derives a lot of pleasure from teasing him and aggravating him. I don't think she has ever come across somebody who just takes himself so damn seriously! That is a lovely outlet for her and she enjoys seeing his reaction and watching him squirm. In season three obviously we see the relationship develop. They become more in tune with one another and they loosen up around each other as well. Jon Snow even cracks a smile, which is an incredible thing. I think even Kit [Harrington] was surprised: he was kind of like, "Wow, I get to smile."
Q: Describe Ygritte

RL: She is a Wildling through and through and so she is gritty. I wanted to embody her with a toughness and a ruthlessness just in the way that she is. But I think that she balances it out with the relationship that she has with Jon Snow and you get to see that playful side of her as well which is a nice thing.

Q: What is your costume like to wear?

RL: The costume is amazing because it is warm. When you are shooting in Iceland that is the most fundamental thing! It really is cold: we were shooting in temperatures of -15 degrees so being shrouded in this wonderfully fluffy coat makes you thank God that Michele [Clapton, costume designer] decided to go for something quite so furry. It insulates you in a fantastic way but it's not restricting at all. You can move around in it; it's quite easy to put on. It's like a jacket with a little hood and then the trousers are made of a very stretchy material; it's kind of like leather. They're not supposed to look elastic but they are. In the second season my jacket was amazing. It was the detail that got me. It had these cave drawings on it: stuff that no one would see on screen, except for me putting it on. It was just exquisite.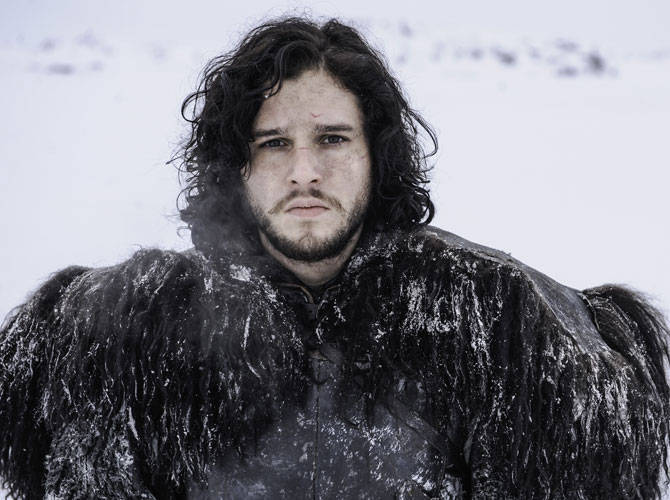 Q:  Some actors just like to use the script, others read the Game of Thrones books. What's been your approach?

RL: I read the books: there is so much material there. Once I knew I was going to be playing Ygritte I delved into the books straight away. George R. R. Martin wrote that she is, "Wildling to the bone," and that is something that has lodged itself in my head. If I hadn't read the books that seed wouldn't have been planted so I'm very happy that I approached it from that way.
Q:  "Wildling to the bone" means…

RL: Hunter, killer, ruthless. I mean she is so tough, she is strong-willed and that is so much fun to play but like I say not so much so whereby she can't balance it out with a kind of cheerfulness and cracking jokes. She can flip from one to the other in a second–it's gold dust to play for an actor.
Q:  Where did you go for filming?
RL: For season three I was in Belfast as well as Iceland. Oh God it was incredible to go back to Iceland–the scenery is just so vast and mesmerizing. It makes the world so expansive as well and that is perfect for Game of Thrones. You really can't fake those views. Sometimes when you're freezing and quaking in your boots halfway through the day then you look around and you think, "What am I complaining about?" It's special and it is inspiring.

Q: Many of your scenes are with Kit Harrington. How is he to work with?
RL: Kit and I we've always got on, we've always been close friends. Being able to make each other laugh off set seeps through in our scenes. I suppose that's a blessing really: to actually get on with the person that you're working with.

Catch Rose Leslie as Ygritte when the highly anticipated season three of Game of Thrones premieres on Saturday, April 20 at 9pm on HBO/HBO HD
***

Game of Thrones, HBO, HBO HD and Home Box Office are service marks of Home Box Office, Inc. Used with permission.


Recommended Videos