And just like that, another Hollywood couple has written the final chapter in their love story. As Us Weekly reported, Taylor Swift and Tom Hiddleston, forever known as Hiddleswift, called it quits after three months of dating, snogging, and everything in between. The couple, along with their fans, have come a long way since those photos of them canoodling on a rock in Rhode Island hit the internet. Here's an important look back at all the highlights of #Hiddleswift.
May 1, 2016: Taylor and Tom are first spotted together at a dinner held at Anna Wintour's home in New York City. Idris Elba and other Met Gala guests are there as well.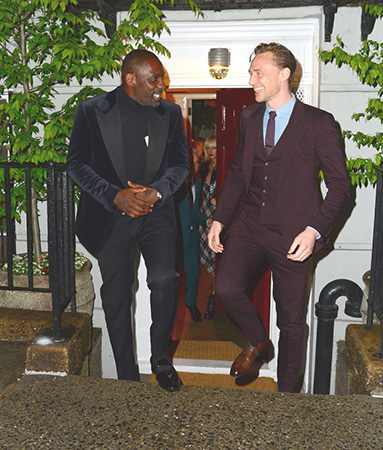 Continue reading below ↓
Recommended Videos
May 2, 2016: Taylor and Tom dance up a storm at the Met Gala. A video recording of their moves still exists.
June 1, 2016: Taylor and Calvin Harris break up, according to a People source, who adds that there was "no drama." This source would later turn out to be incorrect on the whole "no drama" thing.
June 15, 2016: British tabloid The Sun publishes photos of Hiddleswift snogging on a rock in Rhode Island. Everyone freaks out. Calvin unfollows Taylor and Austin Swift on social media, and blocks some Swifties.
Calvin Harris has unfollowed Taylor Swift, blocked Taylor fans & deleted his break-up tweet. pic.twitter.com/EtDaltqEoD

— Pop Crave (@PopCrave) June 15, 2016
June 16, 2016: An old MTV interview surfaces, thanks to new interest in Taylor and Tom's relationship. In the clip, which was taped shortly after the Met Gala, Tom says he has no plans to duet with Taylor. "I don't know that I could stand up to her vocal talents, to be honest. That's what she does. She's a professional musician and I'm an actor."
June 21, 2016: Tom meets Taylor's parents, Andrea and Scott Swift, at Taylor's house in Nashville. Later that evening, Taylor and Tom support Selena Gomez at her concert, also in Nashville. They dance their hearts out. It's basically a repeat of the Met Gala, but this time they're joined by Taylor's BFF Abigail Anderson and her bae Matt.
Taylor with Tom, Abigail and her bf Matt at Selena tonight! #RevivalTourNashville pic.twitter.com/xqxHZxGxqv

— Taylor Swift News (@TSwiftNZ) June 22, 2016
June 24, 2016: Kanye West releases the music video for "Famous," starring Taylor and a bevy of other celebrities in wax form.
June 25, 2016: Tom returns the favor and introduces Taylor to his mom while the pair are in England. That same week, they also hit up Rome and Australia's Gold Coast, where Tom settles down to begin work on the latest Thor movie.
July 4, 2016: Tom wears an "I [heart] T.S." tank top while celebrating America's birthday with Taylor and friends at her Rhode Island mansion. Everyone hangs out in the ocean. Everyone goes down the Taymerica slide. Hiddleswift finally make their Instagram debut (alongside Blake Lively, a deep-in-thought Ryan Reynolds, and Taylor's BFF Britt and her husband Ben).
July 10, 2016: Tom is back in Australia and gives his first-ever interview since becoming one-half of Hiddleswift while on a jog. It's awkward AF.
July 14, 2016: If at first you don't succeed, try again! Tom tells The Hollywood Reporter that yes, he is in fact dating Taylor. This is how he answers the question, BTW: "Well, um. How best to put this? That notion is — look, the truth is that Taylor Swift and I are together and we're very happy. Thanks for asking. That's the truth. It's not a publicity stunt."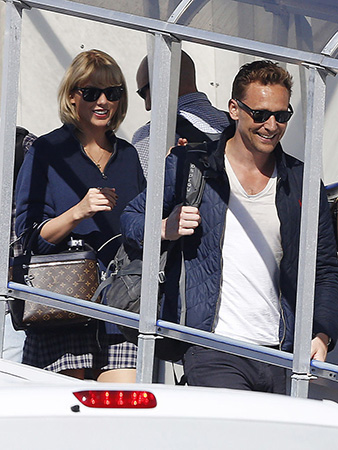 July 15, 2016: Squad member Martha Hunt also speaks on Hiddleswift. "I love that they're both happy and free together," she tells People."It's amazing. I'm all about people being happy in love."
July 17, 2016: Kim Kardashian shares clips of a recorded phone call between Taylor and Kanye West about those "Famous" lyrics and subsequently throws one of the biggest parties of 2016, the #KimExposedTaylorParty. Everyone is invited. For a minute, the internet imagines how Tom is doing.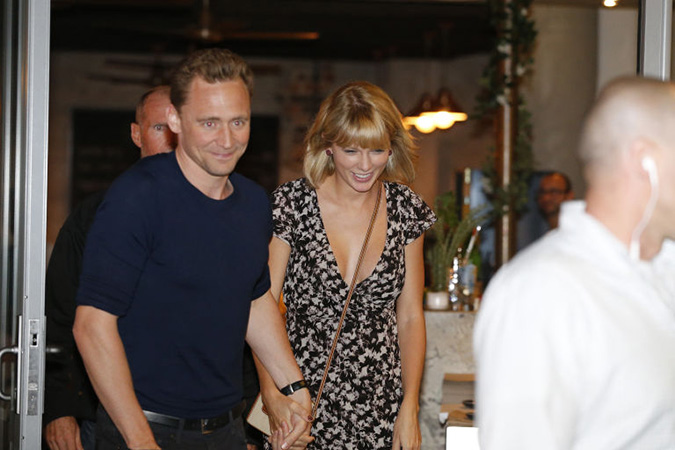 July 24, 2016: Tom talks about his relationship again, claps back at non-believers. "I don't know, it comes down to being authentic," he tells People. "Everything you do you have to make sure you truly believe in it and as long as you know that, it doesn't matter what anyone else says about it because the nature of being a public figure is that everyone will have an opinion about anything you do, and as long as you know why you've done something and you've committed to it with authenticity then you're okay."
Aug. 9, 2016: Tom posts his first-ever Instagram. Sadly, it's just a photo of Tom in his Loki gear. To date, Tom has only posted four Instagrams in total. Chris Hemsworth is in two of them. Taylor, zero.
Aug. 11, 2016: Taylor gardens with her parents, shares it on Instagram for all to see.
Taylor's posted this video of her gardening with her parents on her Instragram story! pic.twitter.com/2dZMX5jOUz

— Taylor Swift Updates (@TSwiftLA) August 11, 2016
Aug. 13, 2016: Tom talks to THR about Taylor again and says nothing surprising about what it's like to be a celebrity and date in Hollywood. "I've learned that there are many sides to a story, and that sometimes there are a lot of stories out there which are false and the hardest thing is to try to not let those falsehoods affect your own life, that's what I would say."
Aug. 24, 2016: Taylor and Tom reportedly have their first fight. Us Weekly says their "major argument" stemmed from his filming schedule for Thor: Ragnarok in Australia. Tom reportedly tries to patch things up by flying to Rhode Island to see Taylor for a "quick two-day stay." Publicly, the two have not been spotted together since their trip to Australia in July.
Sept. 5, 2016: The Daily Mail reports that Taylor has been feeling "uncomfortable" about Tom's wishes to be "public" about their relationship. It's also reported that he asked her to be his Emmys date but Taylor just wants to "keep her private life private."
Sept. 6, 2016: People, Us Weekly, and other outlets report that Taylor and Tom have split up after three months of dating. A source tells People the break up was "amicable."
Follow Peggy on Twitter.
***
This article originally appeared on Cosmopolitan.com. Minor edits have been made by the Cosmo.ph editors.