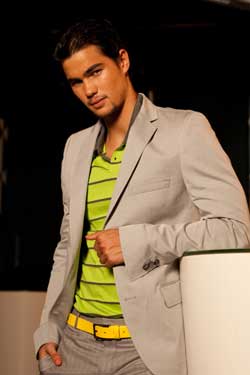 It seems the situation involving Fil-Brit athlete-endorser
Phil Younghusband
and Brapanese model
Akihiro Sato
that
we reported here last week
is getting out of hand, as their respective managers insist it is in fact a non-issue. Phil's manager,
Joyce Ramirez
, issued some clarifications, which we're reprinting here.
She writes, "Brazilian model Akihiro Sato (a contender in
Celebrity Duets Season 3)
was never the primary cause of our most recent argument. Aki, whom we know personally as a genuine kind person, is not involved at all. I am friends with his manager, Jonas Gaffud, and we help each other whenever we can.
"It is normal for people who work together to have disagreements. Phil and I are not just manager and talent; we are very close and share a lot in common with each other despite some opposite attributes. We are both highly passionate individuals and I'd like to believe that we complement each other and that makes us a good team.
"We both admit that we fight a lot, and that's the reason we have become very close. We have been through a lot of issues and at the end of the day, we are still together. Phil will never be jealous of another celebrity because he knows I will stick with him through anything. In fact, I am probably the more insecure type compared to him! He is a very confident, competitive person and that's why I admire him a lot. In the same way, he is very loyal to me as a business partner and as a personal friend. I am actually ashamed because given our 12-year age gap there are times when Phil, who is only 22, acts beyond his age.
"Recently, there have been a lot of negative talks being spread about us, and I admit that no matter how strong I perceive my character to be, I am just human and it's natural for me to get affected or hurt. Phil told me that even though I don't need it, he just wants to let me know that he will always be on my side. In an industry in which you don't know whom to trust or who your friends are, I am very fortunate to have him around.
"Despite all these issues, Phil and I have the same goals in life: To be the best in everything and make it to the top without having to step on or hurt others. We concentrate on bettering ourselves and we try not to get affected or influenced by people/opinions outside of our team. We hope others will do the same, for our country as a whole will be a much better place to live in if people will concentrate on themselves and not waste time doing damage to others."
In the same light, Joyce reports that Phil is spearheading a football clinic in an exclusive Alabang campus on October 25 to teach youngsters and adults the basics of football. This is his way of giving back to his mother's country for being so kind to him. Some of the proceeds from this football clinic will be donated to the recent typhoon victims.
Continue reading below ↓
Recommended Videos