We sat down with UAAP superstars Alyssa Valdez and Amy Ahomiro and talked boys, sports, dream jobs, and fan encounters. Let's get to know these two sans volleyball uniforms, shall we?
Describe a typical day for you.
Alyssa: "Wake up at 5:30 a.m., train, go to school, train again, study, then sleep."
Amy: "Exactly the same!"
It must be hard to be a student athlete. How do you balance school and volleyball?
Alyssa: "Kiwi (Amy) and I know our priorities."
Amy: "Plus, we're seniors now so we know how to balance our time."
Fun fact: Amy is nicknamed "Kiwi" because she's from New Zealand and not because she likes the fruit! A kiwi is actually a flightless bird which is the national symbol of NZ.
Out of all the sports out there, why'd you pick volleyball?
Amy: "I love sports—I played everything. But volleyball was the hardest, and I liked a challenge. So I stuck with it."
Alyssa: "For me naman, I found family in volleyball. I found new sisters, because I'm the only girl [in my family]."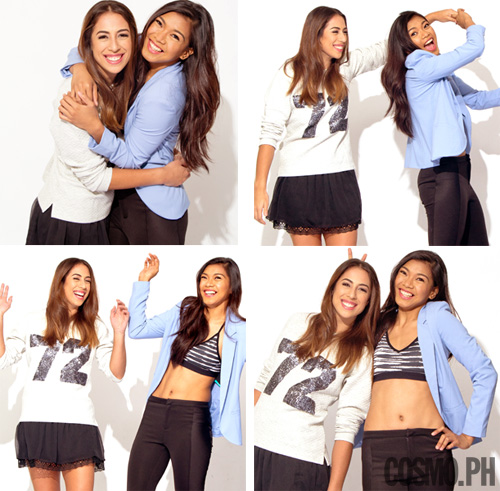 Continue reading below ↓
Recommended Videos
Is there a story behind your jersey numbers?
Alyssa: "Someone was already using the number I really wanted. Eh I wanted one digit lang, so I got 2."
Amy: "The day we had to pick, I was late to training. I wanted 11, but 16 was the only one left."
Can you tell us what your dream jobs are?
Alyssa: "I want to teach. My mom's a teacher. Teach pre-school, maybe!"
Amy: "Astronaut! I really want to go to space."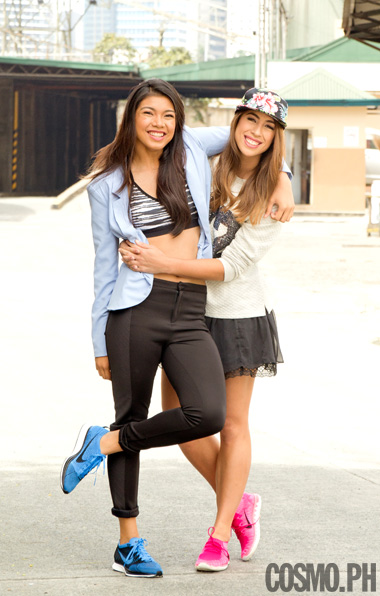 Let's talk about boys! Describe your perfect guy.
Amy: "Tall, muscular, athletic, dresses well, has nice teeth!"
Alyssa: "Kailangan talaga athletic."
How about your celebrity crushes?
Alyssa: "I really like Tom Cruise and Piolo Pascual."
Amy: "Ed Westwick—Chuck Bass all the way! Locally, Sam Milby."
With all the attention you've been getting, have you had any weird or extreme fan encounters?
Alyssa: "One was when were in Hong Kong, when we were about to leave. There was a girl running in the airport and she wanted to take photos with us. She also gave us chocolates with our names on it."
Amy: "Yeah! We had personalized candies, it was really thoughtful."
Alyssa: "There was also this girl who had a new car and she let me sign it—with a permanent marker."
Amy: "I've signed a head!" 
Can't get enough of A & A? Check out more of our exclusive Q & A here:
RELATED:
We raided Alyssa and Amy's bags during their photo shoot! 
***
Amy: Sweater (Suiteblanco); Shorts (Suiteblanco); Sneakers (Nike)
Alyssa: Blazer (Forever 21); Leggings (Forever 21); Sports bra (Nike); Sneakers (Nike)