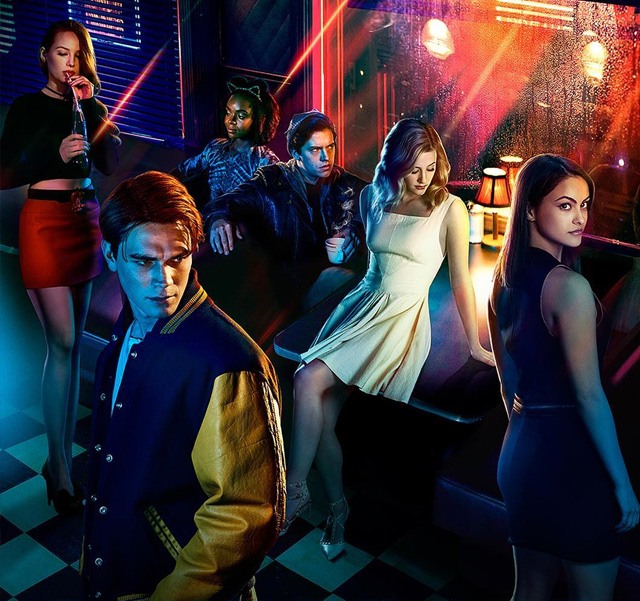 The Long Plot, Sans Spoilers
A new school year begins in Riverdale, but the town is reeling from the mysterious death of high school golden boy Jason Blossom. Archie Andrews returns to school with his friends, but things have changed. Archie is harboring a summer secret with music teacher Ms. Grundy, and he's had a change of heart on what he really wants to pursue as a career. New girl Veronica Lodge just moved in from New York with her own little secret. She befriends Betty Cooper, who is mustering the nerve to tell Archie about her true feelings. Queen bee Cheryl Blossom is using the tragic death of her twin brother Jason to gain more popularity, but it looks like she's hiding secrets of her own. As the town is embroiled in one plot twist after another, budding writer and social outcast Jughead is on top of it all, narrating and jotting down the events in what could one day be a best-selling memoir.
The Short, Honest Plot
Prepare for an alternative Riverdale, where the only elements they got from the original comics are the character names and some nuances.
The Main Actors and Where They Started
Continue reading below ↓
Recommended Videos
1. K.J. Apa as Archie Andrews
If you're from New Zealand, you'll recognize him from TV shows such as Cul De Sac and Shortland Street. Riverdale is his first American show, followed by the upcoming A Dog's Purpose, where he plays the teen Ethan.
2. Lili Reinhart as Betty Cooper
Before landing the big role in Riverdale, she had a few small projects like Surviving Jack, a short-lived TV series in 2014.
3. Camila Mendes as Veronica Lodge
She's a newcomer who auditioned for many acting projects before landing in Riverdale.
4. Cole Sprouse as Jughead Jones
Remember the Sprouse twins from The Suite Life of Zac and Cody (2005)? They're 24 now.
5. Madelaine Petsch as Cheryl Blossom
She modeled before landing the role of Riverdale's red queen.
6. Casey Cott as Kevin Keller
This newcomer is the brother of Broadway star, Corey Cott.
7. Sarah Habel as Ms. Grundy
She has many TV and movie jobs under her belt, including Whip It (2009) and Rush (2014).
Forbidden love. #Riverdale pic.twitter.com/eVv0Xbnha4

— Riverdale (@CW_Riverdale) February 3, 2017
8. Ashleigh Murray as Josie McCoy of Josie and the Pussycats
While she did a few small roles for TV and shorts, Josie is her breakout role.
Did You Know?
1. K.J. didn't know anything about Archie Comics before joining the cast. He's playing the teen Ethan in the upcoming A Dog's Purpose.
2. Camilla wasn't interested in auditioning for Veronica until she found out they wanted a Latina instead of a brunette white girl. 
3. Casey plays Riverdale's first openly gay character, Kevin, who was introduced in the comics in 2010.
4. Madelaine's character Cheryl Blossom is in love with her twin brother, Jason Blossom. Talk about twincest.
5. Sarah Habel is 34. Gurrrl, what anti-aging cream do you use?
6. Cole Sprouse said that while the decision isn't in his hands, he would like to see Jughead's asexuality explored more in the series.
7. There were six Archie cartoons made since 1969, but they were all flops.
8. There was even a movie version, To Riverdale and Back Again (1990). Archie, played by Christopher Rich, is an adult who goes back to his 15-year high school reunion. He's engaged to a different woman, but finds himself torn between Betty and Veronica again.
What My Gen-X, Comic Enthusiast Male Friend Thinks
"From red hair to red rum, from carrot top to conspiracy… Archie, Betty, Veronica, and the Riverdale gang are back with a dark, realistic twist. The show is best described as a combination of Mean Girls, Beverly Hills 90210, Gossip Girl, and Twin Peaks. Instead of playing for laughs and goofs, the TV version of Archie and the gang are teens with illicit affairs, psychological issues, and brooding blog entries. Mayhem, mystery, and murder are all present with a dash of sexy intrigue and a supporting cast of dysfunctional adults." –Ed Geronia, writer
What I Think
When I first saw the trailer last year, I hated it with a passion. My immediate reaction: What the heck did you do to Riverdale and what is this Twilight-meets-Gossip-Girl-meets-Pretty-Little-Liars catastrophe? My sister and I grew up collecting Archie Comics. I mastered the quips ("Egad!") and stereotype behaviors of every character, down to the number of pizza slices Jughead could devour in one sitting (the whole box, if you must know). Imagine the disbelief my peers and I felt upon seeing the trailer destroying the Archie of our childhood.
When the first episode was released on Netflix, I was ready to spill vitriol. I was prepared to walk out halfway through what I expected to be an abomination. Thirty minutes into episode 1, I was still glued to my MacBook, gazing at the Edward Cullen-like skintones of the Blossom twins, Archie Andrews, and Betty Cooper. A hundred thoughts popped into my head, like:
"How did Archie get so hot?"
"In fact, why is everybody oozing with hotness?"
"Deyyym, Ms. Grundy!"
"Woah, is that Luke Perry playing Archie's dad and do the kids know who he is?" (Hint: 90210)
"Wait, that other guy is also gay?"
"When will Jughead order a burger from Pop Tate's?"
"At least Jughead's wearing his signature beanie."
"Who died and made Cheryl the queen bee? Oh wait."
"I want to know the backstory of that new backstory."
This show is eerie, twisted, sexual, and definitely not the Archie of my childhood. I don't know what got into me, but I'm suddenly enjoying this alternative Riverdale, even if it reeks of millennial teen series elements. In fact, I waited with bated breath for episode 2. The 40-minute sophomore episode went by so fast, with me begging for more.
I want to drown in all of Riverdale's deep, dark secrets, but don't give it to me in one go. Feed it to me slowly, just like the hundreds of Archie Comics I've collected through the years.
I'd Recommend It To:
The cynics. Millennials who enjoyed the likes of Twilight, Vampire Diaries, and Pretty Little Liars will be easy to please, so I dare all the old school, die-hard fans of Archie comics to watch this. If this doesn't sink its fangs into your neck and transform you into a pretty little Riverdaler, you can always go back to your pre-2016 Archie Comics bubble. 
***
Visit Kate on KateWasHere.com and follow her on Instagram  and Twitter.