Andi Eigenmann just opened up about her postpartum depression struggles on Instagram.
A second-time mom to Baby Lilo, whose full name is Keliana Alohi Eigenmann Alipayo, Andi spoke about failing to "prepare her mind" for certain aspects while she was still pregnant. Baby Lilo was born on July 24, 2019.
Throughout her pregnancy, Andi shared how as an expectant mom she values the importance of body positivity and self-love. She also shared how she prepped her mind with the possibility she might not "bounce back."
She confessed in the post that she might have "neglected the part where emotional healing might be necessary too," when it came to preparing her mind.
Continue reading below ↓
Recommended Videos
Andi went on to share the symptoms she's been experiencing, which she concludes are those of the baby blues, like crying in the middle of sleepless nights and having guilty feelings, questioning her decisions that led her to have her new baby.
"I guess this is what postpartum depression looks like to me," Andi shared. "I haven't been feeling like myself lately."
Andi also took to Instagram stories to share a post about postpartum depression's symptoms, and how she can relate.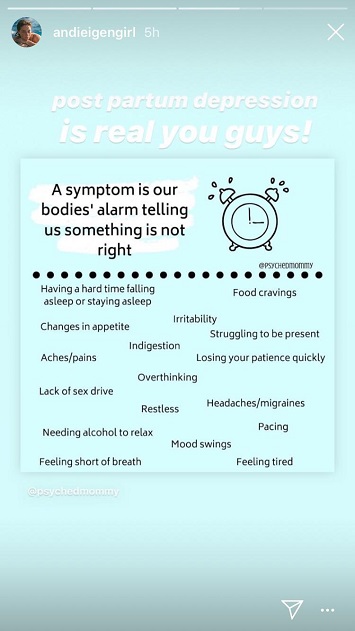 "A symptom is our bodies' alarm telling us something is not right," she captioned the post.
Andi also thanked netizens who shared advice and their personal experiences with postpartum depression.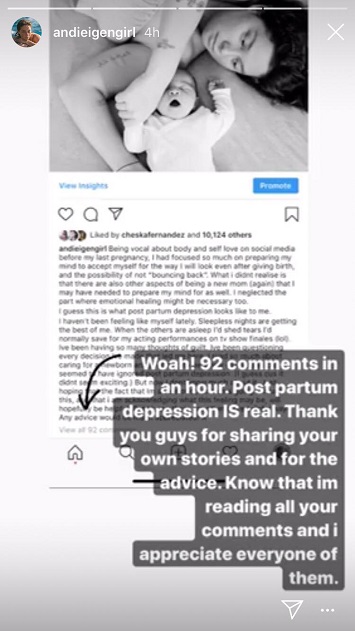 "Postpartum IS real," she said in her IG Story. 
Andi has a firstborn, Ellie, whose father is Jake Ejercito. Her second child, Baby Lilo, is her daughter with her surfer boyfriend, Philmar Alipayo.