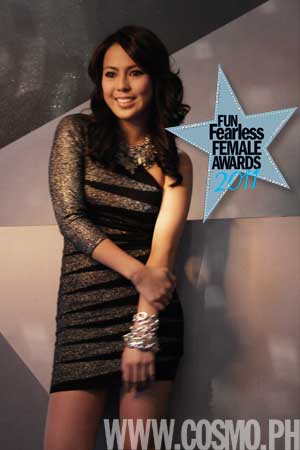 If you're a music lover, chances are, you've been introduced to many of your favorite songs on the radio by one familiar, animated voice on a daily basis. Known to most radio listeners as Andi-9 of Magic 89.9, Andi Manzano has been heralding our midday soundtracks since she was barely 18 years old.

She started as co-host to Mo Twister on Good Times with Mo. She is now paired with Jessica Mendoza on Top 5 at 5. Now 24, this radio DJ, model, and former courtside reporter has come a long way from behind the booth.

Her career in the entertainment industry reached a turning point when she auditioned and won the 2007 MTV VJ Hunt together with Kat Alano and Sib Sibulo. Since then, she has put her charm and poise to good use doing commercials and hosting events. Just last year, she was announced as the new host of Party Pilipinas, along with Ellen Adarna and Gwen Zamora.

We caught up with this Dazzling DJ at her Fun, Fearless Female Awards shoot and the Awards Night, and we found out what motivated her to step into the showbiz spotlight. Watch for her behind-the-scenes video and interview on CosmoTV. But now, launch the gallery to see behind-the-scenes photos of the shoot at Amber UltraLounge.


To see the rest of the Fun, Fearless Female Awardees, grab the May 2011 issue of Cosmopolitan Magazine, with Venus Raj on the cover, in stands now!
Continue reading below ↓
Recommended Videos
1211