Today marks Korean superstar Gong Yoo's 38th birthday (39 if you're celebrating in Korea). And Anne Curtis, one of Gong Yoo's biggest Pinay fans, went all ~*extra*~ to celebrate her main oppa's special day.
She started off the day with a heartfelt appreciation post for the birthday boy. Promising to remain his fan even when she becomes a wife and mom (WOW), Anne wrote:
"Happy Happy Birthday to my main OPPA! I wish you happiness, less loneliness, and freedom of that feeling of having a sword inside your heart. You have gained the biggest fan in me! Even when I become a wife and mum, I'll always be here to support your movies, K-dramas, and fan meets! Saranghaeyo Gong Yoo! I love YOO! 

P.S. If you're still looking for someone to pull out that sword from your heart…I'm just here."
But Anne being Anne took her fangirling a notch higher by wearing a 'lil something special for Gong Yoo. As seen on her real-life fiancé Erwan Heussaff's IG Stories, here's Anne literally wearing her love for the actor:
Continue reading below ↓
Recommended Videos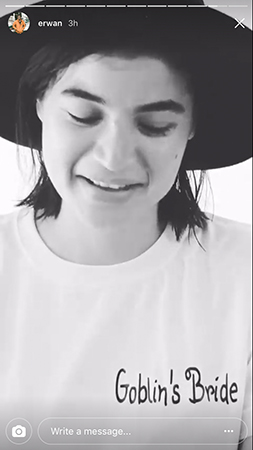 But hey, should we expect any less from the girl who flew all the way to Hong Kong to attend his fan meet? #truelove
Follow Jacinda on Instagram.