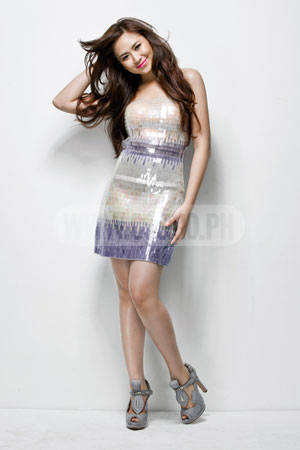 We're ending 2011 with a bang this month as we feature Sarah Geronimo on the cover of our last issue for the year! The Pop Princess makes her Cosmo comeback by revealing the stronger and sexier woman she's become since her last stint on our mag.

Editorial director Myrza Sison explains that we got Sarah for our cover this month because "we wanted to bring out Sarah's inner Cosmo girl. It's been three years since she was on the cover of Cosmo, and she's really grown into a lovely, confident young woman. We wanted to capture that." She reveals that Sarah's supportive fan base also factored into the decision: "We got a lot of Facebook requests and emails, and her name would always come up, so it's our Christmas gift to all her fans!"

Creative director Vince Uy loved working with Sarah because of her professional attitude and easy-going demeanor. "It's always a pleasure working with Sarah because she takes directions really well," he says. "I think it helps also because she's a performer, [so when we asked her to] move a little, as if she was dancing, she did it really well. She's a pro when it comes to moving and creating emotions."

See for yourself what Myrza and Vince mean when you view this gallery of 114 behind-the-scenes photos from Sarah's cover shoot at the Edge Of Light Studios in Quezon City. We hope you've already watched her behind-the-scenes video and interview on CosmoTV!

Plus, don't forget to check out what's inside the bag she brought to the cover shoot and all her wardrobe options (including her own designer shoes)!


Grab a copy of Cosmopolitan Philippines' December 2011 issue with Sarah Geronimo on the cover to read her exclusive feature entitled "Sarah When She Sizzles" (flip to pp. 32-36)! Click on this link to view the e-magazine teaser!
Continue reading below ↓
Recommended Videos
1717