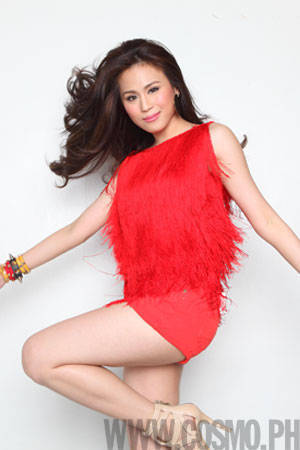 When we try to think of the freshest, friendliest, and most outgoing personalities in local showbiz, Toni Gonzaga is one of the first that come to mind. She is totally in-demand because she gives 110 percent to everything she does, whether it's starring in popular films like My Amnesia Girl or hosting high-profile shows like Pinoy Big Brother, The Buzz, and Happy Yipee Yehey! We just can't resist her sweet smile and perky personality!

...So much so that, for the third time, we're putting her on the cover of Cosmo. As editor-in-chief Zo Aguila notes, "It's always fabulous to work with her. We think the Cosmo girl has to have substance, she has to be kalog, and she has to be able to do everything. And Toni's just like that."

Photographer Doc Marlon Pecjo also thinks Toni is an ideal cover girl, saying, "As we were shooting her, we could right away tell that she has the vibe of the Cosmopolitan woman."

Everyone on the team had a blast during the sizzling shoot, as Toni showcased her own brand of boundless energy to bring the red outfits to life. She twirled, jumped, and danced in the vibrant clothes chosen by celeb stylist Liz Uy.

Liz's brother Vince Uy, creative director for the shoot, explains the cover theme, saying "We tried to focus on just one color, red, which is actually one of the hottest colors now. We wanted to do a playful, sexy, Cosmo spin to it, so you'll be seeing lots of movement. You'll see Toni having fun."

Launch the gallery to see behind-the-scenes photos from the cover shoot, and watch the video (which includes staff interviews) on CosmoTV. You can take a peek into her purse that day in her What's In My Bag? feature. Stay tuned for a step-by-step feature on Toni's makeup process (around the last week of July)! And, don't forget to grab a copy of Cosmo's July 2011 issue for her full interview!
Continue reading below ↓
Recommended Videos
1349