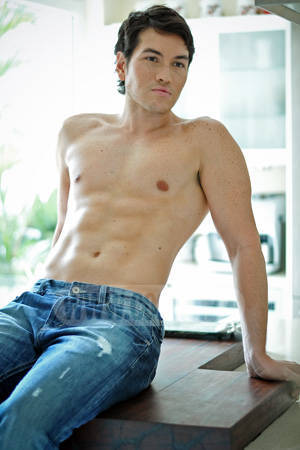 What is it about athletes that makes chicks go wild?
For starters, they've got some of the finest bods you'll ever lay eyes on. Second, you know they'll be pros in the endurance department, if you know what we mean! But there's nothing hotter than an athlete who can get rough and tough in action, yet is an utter sweetheart outside of the playing field.
Cosmo has got just the jock for you! Aly Borromeo, team captain of the Philippine Azkals and the Kaya Futbol Club, returns to Cosmo as he joins our sexiest Centerfolds ever in this month's 15th anniversary issue. 
Continue reading below ↓
Recommended Videos
Born Alexander Charles Luis Borromeo, the 2011 Cosmo Centerfold and March 2012 Man On Fire is a handsome mix of Filipino, Spanish, and American genetic goodness. This football pro has been passionate about the sport since he was six years old. At only 17, he got to represent the country at the 2000 AFC Youth Championship qualifiers as a goalkeeper. He would then move up the ranks as a striker at the 2004 Tiger Cup and eventually become the center back and team captain we lust over today.
What's even sexier about this sporty stud is his relationship track record: he has been with his current girlfriend for nine years! The 29-year-old loves spending down time with his main gal by chilling at the beach, and hopes to someday bring her to that breathtaking honeymoon destination, the Maldives. Swoon!
We know you'd love to see more of this Centerfold stunner, so click away at our image gallery to see just how swoon-worthy Aly is.

Grab a copy of the May 2012 15th anniversary issue of Cosmopolitan Philippines with Anne Curtis on the cover--in stands now! Flip to p. 124 for the article "15 Hottest Hunks Ever!"
1967