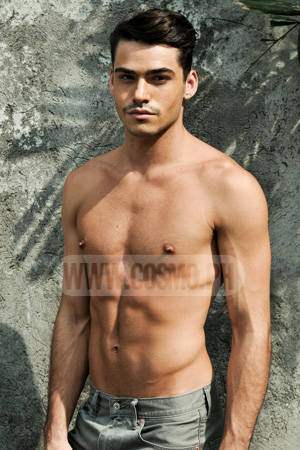 What is it about Brazilian men that just drives women wild? Is it their unbelievably sculpted bodies? Their adorable accent that makes us want to offer ourselves as Tagalog tutors--for free? What is it about their genetic makeup that makes ladies so susceptible to their brawny, brown-eyed charms?

Whatever the answer is, we're thankful that this race of delicious males has bestowed upon us some of the hottest models in town. Take half-Brazilian, half-Italian Pedro Mologni for instance, who graces Cosmo's pages this July 2012 as the Hunk Of The Month.

Standing at 6'1", Pedro doesn't even have to say a word for us to feel him oozing with sex appeal. He's one of the most sought-after male models in the country right now, adding his trademark sizzle to everything from corporate garb and casual wear down to skivvies. All at the tender age of 22!

Now that he's received the grand Cosmo welcome, we want to introduce you, dear Cosmo.ph readers, to the sizzling wonder that is Pedro Mologni. Launch the gallery to see our exclusive behind-the-scenes coverage of his shoot!

Grab a copy of the July 2012 issue of Cosmopolitan Philippines with Heart Evangelista on the cover--in stands now! Flip to p.62 for Pedro's Hunk Of The Month feature!
ADVERTISMENT - CONTINUE READING BELOW ↓
2055