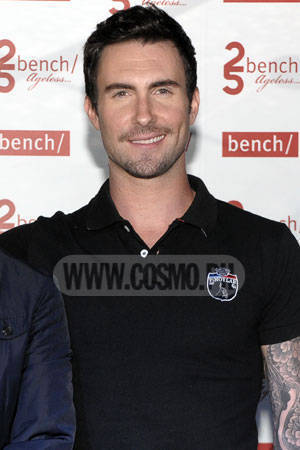 The room buzzed with excitement during the Bench press launch at Salon de Ning last September 17, where the trailblazing brand introduced the newest member to its already star-studded family: the one and only Adam Levine!

Fans were thrilled to find out just a few days before the arrival of Adam's band Maroon 5 in the country that Bench had secretly tapped the hot lead vocalist and The Voice judge to be its newest endorser. The pop-rck group were in town for their sold-out concert at the Araneta Coliseum last September 18--their third Philippine show since 2007.

At the launch, which was hosted by Raymond Gutierrez, Adam gamely answered questions from the media and bloggers. Though he tried to avoid questions on the subject of girls ("I don't want to sound like Fabio," he quipped), he dished on his fashion philosophy and style icons (he's a big James Bond fan), his travel essentials ("A good pair of jeans, and lots of clean socks and underwear!"), and even joked about Pinoy boxing champ Manny Pacquaio's singing skills ("He's a singer like I'm a boxer. But go Pacman, I'm a big fan!")

When Bench chairman Ben Chan was asked why he chose Adam Levine to be the new face of the brand, he simply replied, "Why not? He's one of the hottest in the industry today." We couldn't agree more!

Adam wrapped up the press launch by giving a shoutout to all his Pinoy followers and posing for photos with the Bench team before heading out to meet lucky fans at the Meet and Greet at the SMX Convention Center. 

Also in attendance to see this bad boy in the flesh were Isabelle Daza, Tessa Prieto-Valdes, bloggers Laureen Uy and Patricia Prieto, and Robbie Becroft.

Launch the gallery to see photos of this irresistibly sexy pop-rock superstar at the press con!
2186