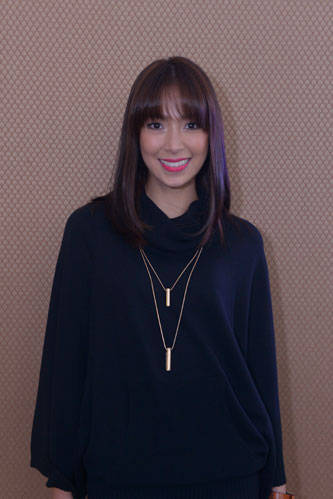 At the recent fall/winter presention of casual clothing brand Uniqlo, Cosmo caught up with VJ and host Bianca Roque. Clad in Uniqlo's fall pieces and sporting a cute, bouncy fringe, Bianca looked all aglow...could it be because of the stunning rock we spotted on her finger? Congratulations on your engagement, Bianca--we couldn't be happier for you!

Pending nuptials aside, we went ahead and quizzed Bianca on all things fash-related. Read her answers below and take a cue from her easy peasy approach to fashion.


On her personal style
I can't describe it because I don't really have a specific style. It depends on what I feel, but I think the basis of it is clean--maybe a little bit fashionable but not going too far. I like colors, I like prints, and flowing silhouettes--very girly and feminine, with a touch of high-street edge.

On fashionable celebrities that she admires
I really like Olivia Palermo's style and I also like Kate Bosworth. Effortless ladies.

On her most sulit fashion find
It would be something that I didn't pay for, like this vintage bracelet I got from my lola. It was from her closet; I didn't have to spend a dime on it. It's a Chinese bracelet with a gold clover in the middle.

On the five things she can't leave the house without
My phone, lip gloss--my lips are always so dry! Lip and cheek tint, mascara, and an eyelash curler.

On style tips for girls on a budget
You don't have to follow trends. Maybe you can check for one specific piece from a trend that you like and make it work for you. Sometimes I wish I was a fountain of fashion ideas, but sometimes you run out of ideas. So I suggest just go for a trend then add a twist, add your personality to it, because you don't want to get lost in all these trends.

On stores she likes shopping at
I love Uniqlo for basics, Zara, Diane von Furstenburg--very girly, and her colors and prints are very nice.
ADVERTISMENT - CONTINUE READING BELOW ↓
ADVERTISMENT - CONTINUE READING BELOW ↓
Recommended Videos
EXPLORE COSMO