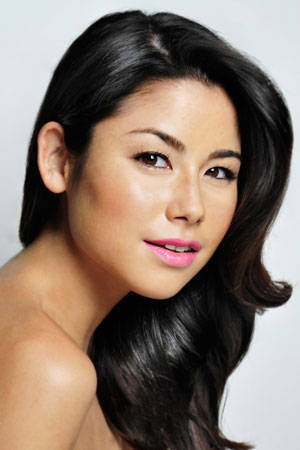 Charity fundraising has a new fearless chick to back it up, and Julia Sniegowski is her name!
Cosmo.ph columnist Bianca Valerio interviews ETC HQ's newest Japanese-American sweetheart, and we soon find out that Julia's definitely more than just a pretty face. 

What brought you to Manila?
"I was flown in to model in Manila for an initial three-month contract after seasons in Tokyo, Hong Kong, and Bangkok."

As one of the new hosts of ETC's ETC HQ together with Cosmo Hottie, Mike Concepcion and ETC Etcetera's Patti Grandidge, how has your life changed since then?
"I can't say my life has really changed since hosting ETCHQ. My friends are still the same and I still do other modeling projects when I'm not taping HQ."

Do share! What's it like to work with Mike and Patti?
"I love working with Mike and Patti. I feel so blessed to be working with such lovely and inspiring people. Mike has always been a good friend of mine and being on set feels very natural with him. I've gotten to know Patti better too since HQ started and I relate to her a lot as we both went to international school as kids and college in LA."

Did you always want to be a host? Tell us more about how you got your ETC stint.
"I didn't ever consciously want to be a host until I came to Manila and was told many times that I should try it out. I feel comfortable with public speaking, so it felt like a natural progression from modeling. W Talent informed me about a hosting audition and asked if I would be interested in auditioning. I, of course answered 'yes,' went to the Solar office, and was interviewed, and subsequently asked for a call back. After the second audition I got the job."

Apart from your hosting duties, can you share with us some of the modeling projects you've previously done in Manila?
"I've done print campaigns for SM, pH Care, and Real Estate. I've done catalogues for Natasha, Karimadon, and Maldita. I've done editorials for Women's Health, Candy, Chalk, Meg, Look, and Maven. Commercials I've appeared in were for Smart, Lenovo, Downey, Minute Made, Nescafe, to name a few."

As we all know, to achieve any kind of success, certain sacrifices need to be made. What were some of the adjustments and/or sacrifices you to had to make living here in Manila, personally and professionally?
"I think being away from home and from family for so long is a sacrifice or compromise I made in order to have my adventure and further my career. Though I've been independent since I was 17, it still gets lonely at times living in a foreign country and being away from everything familiar. However, I chose to move to Asia and it is a decision I definitely do not regret."

Were there times you felt like giving up and leaving Manila altogether? Why?
"Definitely. I feel like now I have such a supportive and loving family of friends, but before I had found this safety net there were times when I was very despondent. I remember feeling like I had no real friends and that I couldn't really connect with the culture here. Of course that all changed, but I do remember moments of feeling alienated."

People don't know that, first, you were once the promoter of Prive's successful Wonderland Thursdays together with fellow model, Marianna Henud and second, part of your proceeds go to charity! Love it, party for a cause...Tell us more about it.
"Marianna and I had always been interested in doing charity work and organizing the international models to do some kind of volunteer work. The owners of Prive were aware of our interest in doing charity events and approached us to promote for them. They asked us to instate a 'Models' Night' and use part of the proceeds from bar sales for charity. We have supported feeding programs for malnourished children in Muntinlupa, TESDA courses for the girls of halfway home Marillac Hills, and organized a blood drive for the Philippine Red Cross."

What's a typical shooting day like for you? How different is modeling from hosting? Which do you prefer? Why?
"A typical shoot day starts in the morning and ends around 7 to 8pm. We shoot spiels in the studio where we discuss current trends and new shows airing on ETC. It is very different from modeling, as hosting is all about having enthusiasm for the trends we showcase. It's also about having good banter and chemistry with my co-host. I can't say I prefer either, but I have been modeling for over 10 years so hosting is a progression and a new challenge that I quite enjoy."

What's the best and worst part of your job? Kindly elaborate.
"The best part is working with amazing friends and people. I love learning about new trends.
The worst part may be the long hours. I get pretty drained by the end of a long shoot."

Having lived in Hong Kong and LA, what do you miss, and what do you love about your new home in Manila?
Continue reading below ↓
Recommended Videos
"I learn a different lesson from each country I live in. I miss the efficiency and cleanliness of Tokyo, the vibrancy and excitement of Hong Kong, Bangkok's food...LA is home, so it goes without saying I miss almost everything! I love how Manila is such a mix of Occident and Orient. The American influence is huge, though there is still so much local flavor. I feel very much at home living close to Greenbelt...it's very similar to Orange County."

What advice can you give to aspiring hosts to are trying to break into the industry?
"I think being natural is very important and letting who you are shine through. Of course the cliché of keep persevering and honing your craft is completely sound and good advice too."

Being away from your family can be tough, so any advice for those who are hesitant to break away from home to pursue their dreams?
"I think everyone needs to break away at one point. It is when you are alone that you find out what you are and what you are capable of doing."
What else can we expect from Ms. Sniegowski in the near future?
"Great things…I would like to continue hosting. I'd also like to be even more active in charity and volunteer work."

Special thanks to W Talent Management
Twitter Name: Julia_Snieg
Facebook: https://www.facebook.com/juliaSwtalent