Catriona Gray, the Philippines' representative to the upcoming Miss Universe 2018 beauty pageant, recently shared how she felt about being appointed as the ambassador for the 2018 Love Gala and Ripple Awards. 
According to the Love Gala website, the gala is "the first of its kind in Asia." It will have "a concert headlined by artists who are also HIV-AIDS awareness advocates [and] a mini auction that will raise funds to further HIV-AIDS education." On the other hand, the Ripple Awards "will honor outstanding [HIV-AIDS awareness] advocates who have contributed greatly to the cause."
Catriona wrote on Instagram, "So honored to be appointed as the ambassador of the 2018 Love Gala and Ripple Awards. If you know of an individual, organization, or project that has genuinely moved people towards uplifting the lives of those affected by the HIV-AIDS epidemic and has created a ripple of positive change in the community, you can nominate them for the 2018 Ripple Awards." 
Continue reading below ↓
Recommended Videos
In the comments section, a netizen with the handle @alvindun said that Catriona keeps using the same words in her interviews: "I hope she would use other words sometimes. 'Uplifting the lives of those...,' 'Create a ripple of positive change....' Don't get me wrong, I admire how smart you are, but if I [keep hearing] someone saying the same things over and over again in an interview or text, it sounds boring and monotonous."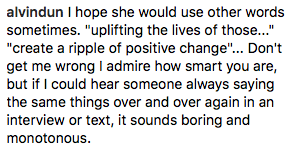 Catriona's followers immediately defended her.
One user commented that the important thing to consider is how the words create "positive change."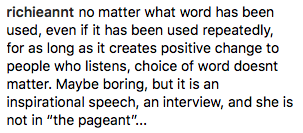 Another netizen said that the word "ripple" is "very symbolic of what all of us can do to effect change."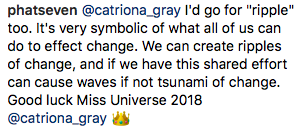 And another user wrote that repeating statements "only shows your consistency and strong desire to let your message, which is highly relevant, be felt and be understood by many."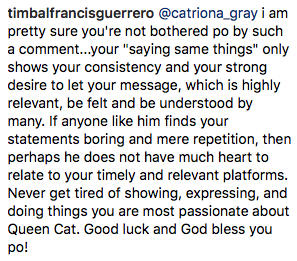 Catriona shared her thoughts on the matter too. And ever the beauty queen, she added a peace sign in the end: "It's called the 'Ripple Awards.' And whatever words I use—"uplifting," "empowering," "making a difference"—[may all be] familiar to the ear, but [are still] hugely relevant nonetheless."