In February, Kanye premiered "Famous" during his New York Fashion Week show at Madison Square Garden. The song raised even the most stubborn of eyebrows because of the lyric, "I feel like me and Taylor might still have sex / I made that bitch famous." Taylor's squad defended her.
I'm so sad right now & disappointed right now. I stand by my sister. Always.

— Jaime King (@Jaime_King) February 12, 2016
Her brother Austin threw out his Yeezy Boosts.
Kanye later explained in a series of tweets that the idea initially came from Taylor, that they had an "hour long convo" about the lyric, and that the song got Kim's blessing.
At the Grammys later that month, Taylor delivered a speech likely meant for Kanye.
As the first woman to win Album of the Year at the Grammys twice, I want to say to all the young women out there—there are going to be people along the way who are going to try to undercut your success or take credit for your accomplishments or your fame."
And to think, Taylor and her "friend" Kanye's united front at the VMAs, #yeezy2020, and Kanye's flower delivery happened just last year!
WINNER: Neither. (See next entry).
2. KIM KARDASHIAN VS. TAYLOR SWIFT
In June, Kim revealed in a stunning GQ interview that Taylor actually knew about the "Famous" lyrics before the song was released. "What rapper would call a girl that he was rapping a line about to get approval?" Kim said at the time. "[Taylor] totally gave the okay." In the interview, Kim teases the recording of the conversation between Kanye and Taylor for the first time, revealing that a videographer who was hired to record every important Kanye moment (for a future documentary) was there for the phone call.
On a warm Sunday in July, Kim delivered her promise and posted several videos of Kanye talking to Taylor on the phone via Snapchat. Twitter reacted by throwing a #KimExposedTaylorTaylorParty.
Taylor responded with a note on Instagram, noting that she "would very much like to be excluded from this narrative."
In September, Kim told Wonderland magazine that she's actually a Swiftie and that "there was no shade" in leaking the phone call. She also told Billboard that she's "so over" talking about Taylor and their feud: "I just wanted to protect my husband. I saw him getting a lot of shit … It wasn't even about a look or anything, or to have this feud — it was like, 'OK, here's the truth.' Done. Let's all move on. I feel like I don't want to talk about her anymore."
WINNER: Kim, by a landslide.
3. CHRISSY TEIGEN VS. MOM SHAMERS
Chrissy delivered multiple clapbacks on Twitter in 2016. For one reason or another, haters thought it was a good idea to call the model out for everything, from her dinner date days after giving birth to Luna to how she should properly hold her daughter.
Funny there's no dad-shaming. When both of us go out to dinner, shame both of us so Chrissy doesn't have to take it all. We'll split it.

— John Legend (@johnlegend) May 11, 2016
In October, Chrissy made her Twitter account private: "It's not haters or trolls or generally mean people," she wrote at the time. "I just feel like I am absorbing bad shit 24/7. My body and mind cannot handle it anymore."
WINNER: Chrissy.
4. CHRISSY TEIGEN AND JOHN LEGEND VS. PIERS MORGAN
Shortly after Muhammad Ali's death in June, Piers Morgan declared on Twitter that the boxing legend was more racist than Donald Trump. John wrote back, "You could test us by announcing your retirement" while Chrissy added, "From what? Trolling isn't a job (I've tried)."
.@piersmorgan you could test us by announcing your retirement.

— John Legend (@johnlegend) June 5, 2016
Maybe I should take up a proper job, like modelling? > RT @chrissyteigen: @johnlegend from what? trolling isn't a job (I've tried)

— Piers Morgan (@piersmorgan) June 6, 2016
The exchange continued, with Piers criticizing Chrissy's job as a model and Chrissy tweeting that modeling "keeps me nice and not-racist." Piers later tweeted at the couple promoting his column "about Ali & racism," to which Chrissy wrote, "Sorry can't read, just a model doing modeling. Troll recognize troll. I can't tweet him anymore. He has fans somehow and they … they aren't quite 'all there,' as they say."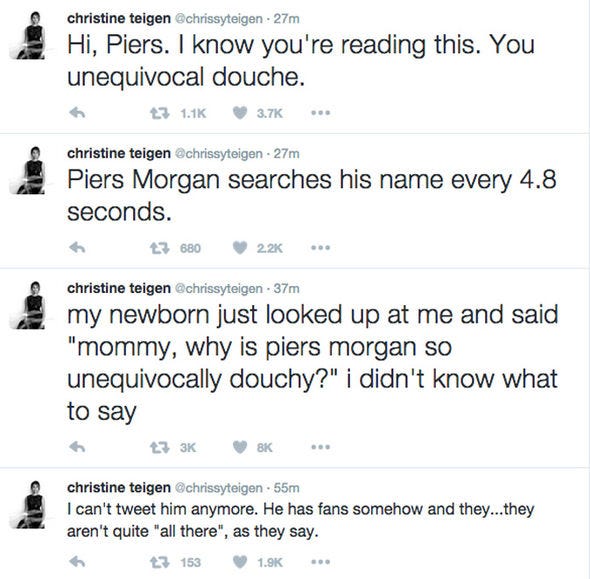 WINNER: Chrissy and John. (They're winners every day, TBH).

5. CALVIN HARRIS VS. TAYLOR SWIFT
Following the demise of Tayvin and the birth of Hiddleswift, Calvin's social media activity suggested that he was anything but stoked for the new couple. In June, Calvin unfollowed Taylor on Twitter, blocked Swifties, and deleted his breakup tweet, which originally said, "The only truth here is that a relationship came to an end & what remains is a huge amount of love and respect." He also tweeted and deleted, "Oh boy it's about to go down," and blocked Taylor's brother Austin.
He blocked Taylor Swift's brother and also deleted all his photos with Taylor Swift. He tweeted this & deleted it. pic.twitter.com/Kl59NMJZFo

— Pop Crave (@PopCrave) June 15, 2016
Evidence of the former couple's relationship also began disappearing on their respective social media accounts, including those beautiful vacation photos.
taylor deleted these iconic pics that will forever live in my heart pic.twitter.com/smEFgPPmf7

— katia claus (@nightsflawless) June 15, 2016
In July, TMZ reported that Tayvin broke up over songwriting credits for "This Is What You Came For." It would later be confirmed that Taylor penned the song under the name "Nils Sjoberg." Calvin wrote—and deleted, naturally—several tweets, including one that read, "I know you're off tour and you need someone new to try and bury like Katy ETC but I'm not that guy, sorry. I won't allow it," referencing Taylor's long rumored feud with Katy Perry.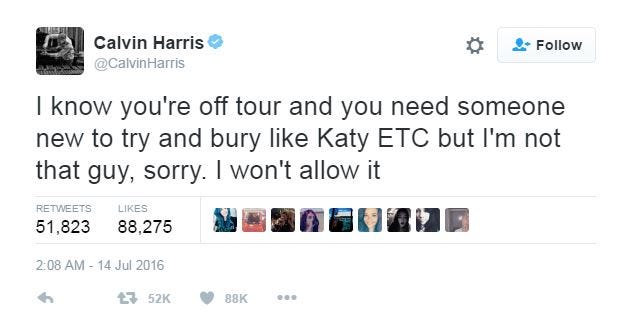 Things cooled down in the fall, when Calvin told British GQ that Taylor "respected" his feelings when they were together and that he's "not good at being a celebrity." During New York Fashion Week, Taylor shared an Instagram video of her BFF Gigi Hadid walking the Tommy Hilfiger show. "This Is What You Came For" played and Taylor sang along. According to eagle-eyed fans, Calvin liked Taylor's video, even though he wasn't following her at the time.
Calvin Harris liked Taylor's recent post. pic.twitter.com/Of2S3ouhAl

— Taylor Swift Updates (@TSwiftPR) September 10, 2016
In October, Taylor performed "This Is What You Came For" for the first time at the Formula 1 Grand Prix Weekend in Austin. The show was her only show of 2016.
Calvin thanked Taylor (and Rihanna) in November after the track became the second song released this year to be certified 2x platinum in the U.K.
I am blessed to work with incredible artists @rihanna @taylorswift13 thank you!!! https://t.co/xJrRwrbvr1

— Calvin Harris (@CalvinHarris) November 4, 2016
WINNER: It's a draw. If they're cool, we're cool.
6. KATY PERRY VS. TAYLOR SWIFT
In 2016 alone, the long rumored riff between Katy and Taylor had everything, from a perfume named "Mad Love" (which was possibly a wink to "Bad Blood") to a Hillary Clinton GIF. In September, Katy told a fan that she would collaborate with Taylor "if she says sorry."
@HerWonkEye @katycatsophia @camilasviews if she says sorry, sure!

— KATY PERRY (@katyperry) September 10, 2016
In October, Katy spent part of her 32nd birthday voting for Hillary and seeing Kanye West in Los Angeles. Then Katy did this during Kanye's famous lines in "Famous."
Katy Perry dancing on Famous by Kanye West is everything. QUEEN ?????? pic.twitter.com/ISYeV2tGhm

— Floh?? (@KATYPERRYRISES) October 26, 2016
WINNER: Neither, because let's face it, this feud is never going to end.
7. KANYE WEST VS. JAY Z
During a "Saint Pablo" show in October, Kanye told the crowd that there will "never be a Watch the Throne 2" and mentioned something about "Tidal/Apple bullshit." He also said he and Drake were the only ones who were supposed to appear on Drake's "Pop Style," but Jay Z joined as a "surprise." Kanye went on to say that the Carters have not visited Kim since her Paris robbery. "You wanna know how I'm feeling? Come by the house. Bring the kids by the house, like we brothers. Let's sit down … I can't take this shit, bro. Our kids ain't never even played together," Kanye said, referring to Blue Ivy, North, and Saint.
"Don't call me, after the robbery, and say 'how you feelin?' You wanna know how I'm feelin? Come by the house," - Kanye #SaintPabloTour pic.twitter.com/G6wkIzbY0n

— McKenna Moe (@MoeMunyMoeProbs) October 20, 2016
At the Nov. 19 show in Sacramento, Kanye delivered a 15-minute speech and covered everything from the VMAs to Beyoncé and Jay Z. "Beyoncé, I was hurt 'cause I heard you said you wouldn't perform unless you won Video of the Year over me and over 'Hotline Bling.'"
Kanye West CALLS OUT Beyoncé and Jay Z at his concert pic.twitter.com/OCl1QD33fw

— Pop Crave (@PopCrave) November 20, 2016
He continued, "Now, don't go trying to diss Beyoncé. She is great. Taylor Swift is great. We are all great people. We are all equal. But sometimes we be playing the politics too much and forgetting who we are just to win. Fuck winning." Two days later, Kanye canceled the remaining 21 "Saint Pablo" shows and checked himself into an L.A. hospital for exhaustion. He was released Nov. 30.
Kanye's comments tie in nicely with the long reported Kim and Beyoncé feud, which added a new (rumored) chapter in late October. Page Six reported at the time that Beyoncé has "never genuinely liked Kim" and has never been a fan of Kanye appearing on Keeping Up With the Kardashians. "[She] always gives Kanye a lot of grief whenever he's done anything for the show," according to a source.
WINNER: Kanye, for being ~so real~ especially after what happened to Kim. He just wanted to know why his friend wasn't there for him and his family.
8. KANYE WEST VS. WIZ KHALIFA
Kanye nearly broke Twitter when he lashed out against Wiz in January, back when Kanye's album The Life of Pablo was still using its working title Waves. Wiz reportedly was not happy with Kanye using the same title as rapper Max B's work. He also tweeted (and then deleted) something about "KK," which Kanye misunderstood as "Kim Kardashian" (see Kanye's 16th thought).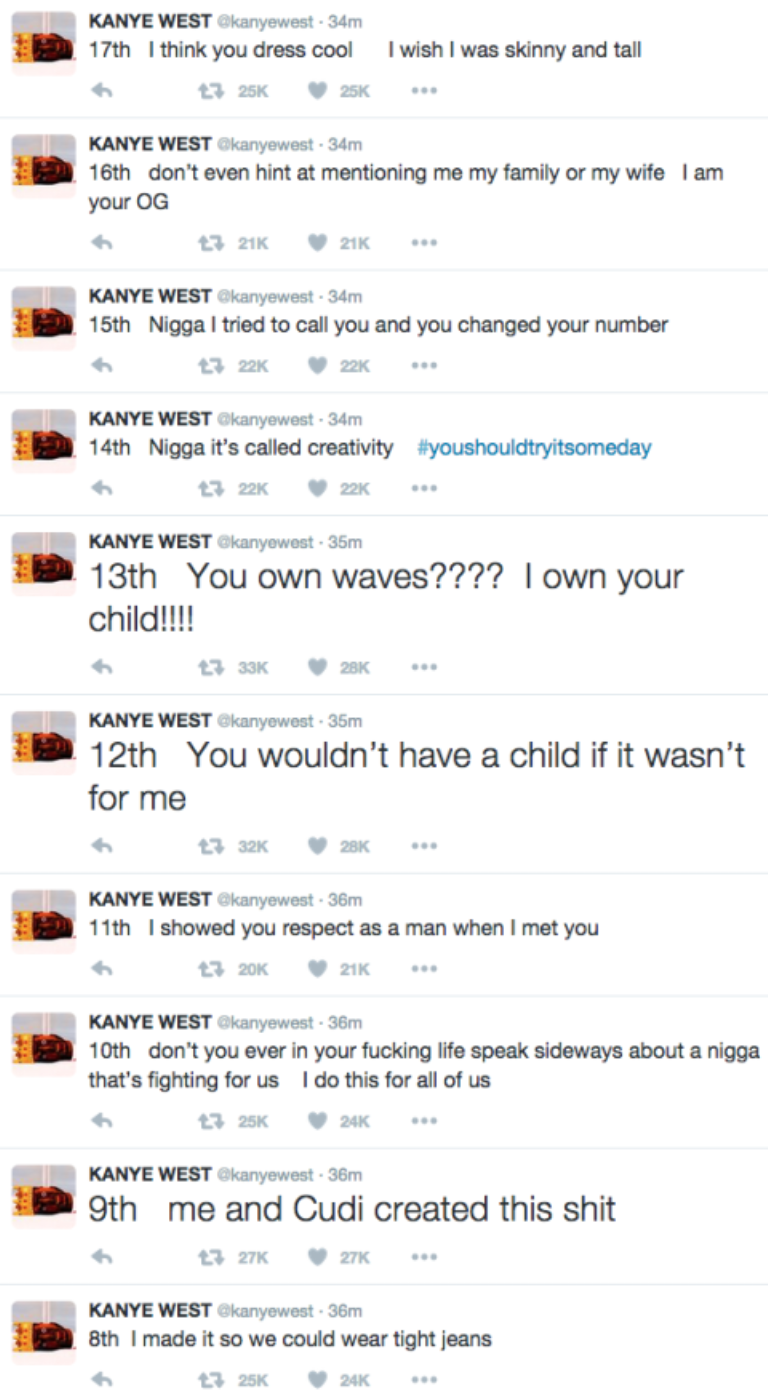 No one had time to read all of Kanye's tweets, which were mostly deleted that same day. But if you must know, Kanye accused Wiz of stealing "your whole shit from Cudi" (referring to Kid Cudi), used a crying Kimoji, alluded to Wiz's "cool pants," and went through a list of other Kanye thoughts. Kanye also referenced Amber Rose, writing "you let a stripper trap you." Other interesting tweets include: "You own waves???? I own your child," "You wouldn't have a child if it wasn't for me."
Wiz followed up with some more tweets, including one that confirmed "KK" was Khalifa Kush, his very own brand of weed.
KK is weed fool. Reason's why your not wavy. Go bacc to Swish. https://t.co/7OT4xiQa5V

— Wiz Khalifa (@wizkhalifa) January 27, 2016
I been smashed the idea of that album even existing. I got joints to roll @kanyewest

— Wiz Khalifa (@wizkhalifa) January 27, 2016
Kanye later explained why he took down most of the tweets. #PositiveEnergy forever.
Good energy positive energy

— KANYE WEST (@kanyewest) January 27, 2016
Ima take these down cause it's all about positive energy blessings blessings positive energy blessings

— KANYE WEST (@kanyewest) January 27, 2016
He also issued an apology on Twitter and reminded the world why it's always a bad idea to include kids in a feud. He followed that up with confirmation that he and Wiz are cool again.
God's dream… Never speak on kids again… all love … all blessings…

— KANYE WEST (@kanyewest) January 30, 2016
Me and Wiz spoke yesterday. Great convo. All positive.

— KANYE WEST (@kanyewest) February 2, 2016
WINNER: Wiz, even though he kind of started the whole thing.
9. KANYE WEST VS. AMBER ROSE
During Kanye and Wiz's online feud, Amber chimed in and silenced the masses with one epic tweet.
Awww @kanyewest are u mad I'm not around to play in ur asshole anymore? #FingersInTheBootyAssBitch?

— Amber Rose (@DaRealAmberRose) January 27, 2016
Two days later, Kanye tried to explain himself, claiming that he "never let them play with my ass" and that he stays away "from that area all together."
Exes can be mad but just know I never let them play with my ass… I don't do that… I stay away from that area all together

— KANYE WEST (@kanyewest) January 29, 2016
I'm not into that kind of shit… I like pictures and videos Me and my wife got the kind of love that can turn exes into best friends

— KANYE WEST (@kanyewest) January 29, 2016
In June, Kanye shocked the world again and released a very naked music video for "Famous," starring wax models of Taylor Swift, Donald Trump, George W. Bush, Kim, and Amber Rose. Amber later said on her talk show that while she's on Kanye's side when it comes to the "Famous" feud with Taylor, she'd still very much like Kanye to "stay the fuck out of the news … so I don't need to talk about your ass anymore."
WINNER: Amber, for the best tweet of 2016.
10. MARIAH CAREY VS. JENNIFER LOPEZ
Mariah revived her (rumored) decade-long "I Don't Know Her" feud with J.Lo this year when Mimi told TMZ that she "still" doesn't know her. A few days later, J.Lo told Wendy Williams, "She does say that. She's forgetful, I guess! We've met many times. I don't know … I don't know her that well."
In July, Mariah added more fire to her feud, telling Andy Cohen on Watch What Happens, "I don't know her. What am I supposed to say? I'm not going to put on a thing like we're all Hollywood and let's pretend we're best friends."
WINNER: Mariah, otherwise she won't know me/you either.
11. CHLOË GRACE MORETZ VS. THE KARDASHIANS
Kim and Khloé Kardashian have always supported each other, while Chloë has never shied away from saying (or tweeting) what's on her mind. In March, Kim shared an old nude selfie of herself from a 2010 W magazine shoot. Black bars were included, along with the caption, "nothing to wear LOL." Chloë was quick to respond to the naked photo and criticized Kim for setting a bad example for young women. (She was outnumbered, unfortunately, by those who publicly supported Kim, including Ariel Winter, Emily Ratajkowski, Demi Lovato, and Bella Thorne).
@KimKardashian I truly hope you realize how important setting goals are for young women, teaching them we have so much more to offer than-

— Chloë Grace Moretz (@ChloeGMoretz) March 7, 2016
@KimKardashian - just our bodies.

— Chloë Grace Moretz (@ChloeGMoretz) March 7, 2016
Around midnight, Kim welcomed Chloë to Twitter in the only way Kim, the queen of social media, could:
let's all welcome @ChloeGMoretz to twitter, since no one knows who she is. your nylon cover is cute boo

— Kim Kardashian West (@KimKardashian) March 8, 2016
In July, just when the #KimExposedTaylorParty was just getting started, Chloë found herself in a Twitter war with Khloé and urged everyone to "get their heads out of a hole."
Everyone in this industry needs to get their heads out of a hole and look around to realize what's ACTUALLY happening in the REAL world

— Chloë Grace Moretz (@ChloeGMoretz) July 18, 2016
Stop wasting your voice on something so petulant and unimportant

— Chloë Grace Moretz (@ChloeGMoretz) July 18, 2016
Khloé responded by posting two photos that appear to show Chloë with her "a hole." Chloë was not here for that.
@khloekardashian fact check: first photo is me filming my movie Neighbors 2, the second photo is some girl who was wrongfully photographed

— Chloë Grace Moretz (@ChloeGMoretz) July 18, 2016
Khloé was not here for Chloë's response, so it was back to Twitter the next morning. At the time, Khloé advised Chloë to "refrain from commenting on my family and OUR business (and I will do the same)."
Refrain from commenting on my family and OUR business (and I will do the same)

— Khloé (@khloekardashian) July 18, 2016
In September, Chloë reflected on her feud with the Kardashians in an interview with The Hollywood Reporter, saying she gave her attention "to people that didn't deserve my attention." She also cited learning from Hillary Clinton that "being the most opinionated and loud person in the room is not always the most impactful."
WINNER: The Kardashians. P.S. Chloë shouldn't include Hillary in this mess. P.P.S.:
12. KELLY RIPA VS. MICHAEL STRAHAN
Live With Michael and Kelly abruptly became Live With Kelly after Michael Strahan's surprise announcement in April that he was leaving the show for Good Morning America.
Kelly Ripa, who Page Six said saw the move as the "ultimate betrayal," subsequently called in sick for two consecutive days and left the show to find last-minute replacements. Kelly's camp later confirmed that her leave of absence was actually a "pre-scheduled vacation" with her family to Turks and Caicos. From what Kelly said in her first show back to the weeks leading to Michael's exit, the co-hosts' final days together were anything but smooth.
The network is still on the hunt for an official replacement, though Live With Kelly has included a star-studded lineup of guest hosts in recent months, including Andy Cohen, Anderson Cooper, Megyn Kelly, Alec Baldwin, and Kelly's husband Mark Consuelos.
WINNER: Neither. But the real loser here is ABC for not handling the announcement properly. Kelly and Michael deserved better.
13. JUSTIN BIEBER VS. SELENA GOMEZ
The couple formerly known as Jelena spoke about each other in various magazines this year. Justin told GQ that Selena inspired a lot of songs on Purpose and that their current relationship is "cordial." Speaking to  W magazine, Selena said she is "so exhausted … I honestly am so done. I care about his health and well-being. But I can't do it anymore." Things got salty in August when Justin shared multiple photos of then-girlfriend Sofia Richie, which led to him lashing out at fans and threats to make his account private.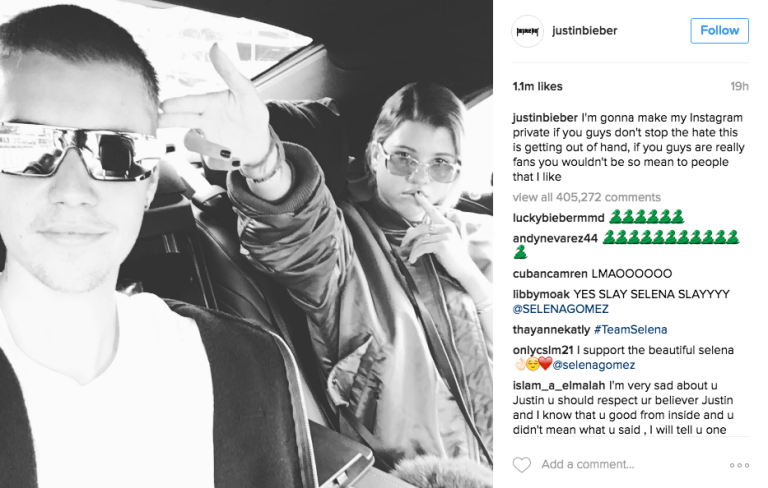 Selena got into the conversation and left a comment on Justin's account, writing, "If you can't handle the hate then stop posting pictures of your girlfriend lol – it should be special between you two only. Don't be mad at your fans. They love you and supported you before any one ever did." Twitter then briefly threw a #SelenaEndedJustinParty before Selena followed up by posting photos of her own fans and liked posts that dissed Justin. She later apologized, writing on Snapchat, "What I said was selfish and pointless." It's unclear whether or not Justin saw that before or after he deleted his Instagram account. @justinbieber remains in "user not found" land.
In late August, Selena announced she was taking time off because of Lupus-related exhaustion, including anxiety, panic attacks, and depression. "I want to be proactive and focus on maintaining my health and happiness and have decided that the best way forward is to take some time off," she said at the time.
WINNER: Justin, even though Selena turned it around by owning her mistake and dealing with her health. That, in many ways, makes her the ultimate winner.
14. DWAYNE JOHNSON VS. VIN DIESEL
After wrapping his scenes on Fast and Furious 8 in August, Dwayne Johnson got real on Instagram and lashed out at his male co-stars for behaving like "chicken shit" and "candy asses."
While he didn't name anyone, all signs pointed to Vin Diesel, who shared a cryptic Instagram video days later. "Honestly, give me a second, and I will tell you everything," he said.
Page Six reported at the time that the two had been "butting heads" through production on Fast 8 and that Dwayne "lost his patience" with Vin because of his reputation for being difficult on set. "He shows up late, keeps people waiting, holds up production, and is disrespectful to people on the set."
WINNER: The Fast and the Furious franchise, because now I want to see what The Rock's anger and Vin's tardiness looks like on the big screen.
15. AZEALIA BANKS VS. RUSSELL CROWE
In perhaps the most bizarre entertainment story of 2016, Russell Crowe and Azealia Banks both found themselves at the same Hollywood dinner party in October. Things did not go smoothly, when it was reported that the actor kicked Azealia out after she made threats. Azealia, who was a guest of RZA's, told a different story, claiming that Russell called her the N-word, choked her, and spit on her. Fellow dinner guests stand by Russell's side, saying that Azealia criticized his taste in "boring white men" music and threatened to stab party guests in the throat.
After promising to have the "receipts" on Facebook, Azealia later told Us Weekly that she was no longer pressing charges because "I just want to put my fucking music out."
WINNER: Neither, because it's still unclear what happened at that mysterious dinner party.
Follow Peggy on Twitter.
***
This article originally appeared on Cosmopolitan.com. Minor edits have been made by the Cosmo.ph editors.