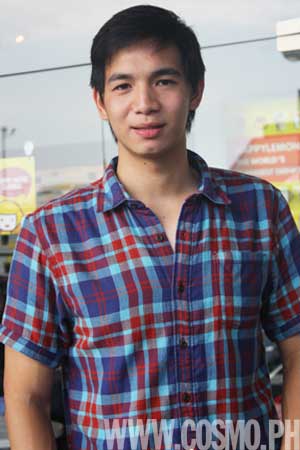 Twenty-five-year-old basketball heartthrob Chris Tiu has been beloved by both fangirls (of all ages) and youngsters alike, ever since his days as team captain for the Ateneo Blue Eagles. He gained legions of fans and admirers with his discipline in his sport and studies, his devotion as a public servant, and his down-to-earth personality, despite being tapped as a model for numerous commercial campaigns and even a host for TV shows. It's safe to say that he is anything but a stereotypical jock.

Since going pro with the Smart Gilas Pilipinas national basketball team, he has served as co-captain, leading his teammates in games played as far as Europe and the United States. With an upcoming game later this month for the FIBA Asia Champions Cup, the team is vigorously training, in the hope of reaching their ultimate goal of qualifying for the 2012 Olympics.

In his spare time, Chris hosts three television shows on GMA-7: Man vs. Beast, Ripley's Believe It or Not!, and Hanep Buhay. The latter focuses on Pinoy entrepreneurship—something that Chris, himself, is an expert on and actively advocates.

We caught up with Chris at the launch of his latest business venture with friends, Hong Kong milk tea franchise Happy Lemon, with its first branch in Promenade Greenhills (watch for more branches around the metro soon). Read on for his thoughts on basketball, showbiz, fangirls, and long-term relationships.

Can you tell us about your basketball training?

Training's everyday. That's like my office job. No miss 'yan, everyday. We train six days a week, three hours a day in the court, and then three times a week we have additional weight training. We [just played] in the PBA and then we're gonna play in Turkey, in Portugal in the next few months, and then Taiwan for the Jones Cup in September.

Did you have a break this summer?

No, I don't have a break. We didn't even have Holy Week, we didn't have Valentine's Day, we have no Christmas...no breaks. Sacrifice talaga, for the country. It's not going to last forever; I see it as a privilege to represent the country. If I'm not in practice, before and after I have taping for my shows, business meetings, magazine shoots, and features.

You've done hosting, but do you aspire to venture into acting?

No, no, no. No acting for me. Actually, getting into hosting was an accident already. I never saw myself doing that, but then they told me to co-host with Manny Pacquiao, and of course sabi ko, "Sige, why not?" Who doesn't want to meet him and have a show with him? So we had a show together. It started there and tuluy-tuloy na. But then acting, it's long hours. It's not good for athletes to practically not sleep. And, there's a lot of waiting time also, so I [wouldn't be] very productive.

With your busy schedule, how do you make time for a personal life?

Whenever I can, I have dinner or just spend time with friends here at Happy Lemon and other restaurants. I think even just dinnertime is very important, since that's when you get to communicate and talk. I'm not a big fan of night life, of partying at night, 'cause you don't really get anything done.

So, tell us about your love life.

I have a non-showbiz girlfriend, a long-term relationship. She's what keeps me grounded.

How long have you been together?

Since high school pa. I met her in grade school. I was courting her in grade school but she didn't like me. (Laughs.) She's a good family friend.

Can you share how you sustain your long-term relationship?

Well, of course, compatibility is so important. You must share the same values. You must be able to communicate things to each other, so that there's no misunderstanding. You have to be understanding of one another and patient. Make sacrifices. People think relationships are always fun, but sometimes you gotta make sacrifices and give in to one another. If you really know it's the person you want to be with, then you make it work. But then, if you're young and you're not really sure, then I encourage the young ones to meet a lot of people also. It really depends; there's no one formula for it, for relationships.

How do you deal with fangirls, especially those who are always at your games?

I'm grateful for them because they're super supportive. They'll fight for you, you know; if people talk bad about you, you know they're there. (Laughs.) And it's really what keeps me going, to see people appreciate your work, whether I'm doing basketball or media. Sometimes it's tiring to take so many photos, smiling non-stop, but of course it's part of it. My fans and followers, they have a name for themselves: mga Tiu-natics. (Laughs.) They even have an entire blog just for me. They put all the newspaper clippings, TVCs, print ads, endorsements...they post everything there. They're so updated, even more updated than I am sometimes! Nakakataba ng puso actually, and I'm very glad that they're there.

Have you ever had any scary encounters with fans?

They haven't been naman very bastos or anything. When I was younger, I got a lot of random kisses from fangirls. But, you know, you just ride along with it. (Laughs.) They're just having fun.


Click through the gallery to see behind-the-scenes photos of Chris from our interview with him at Happy Lemon! Don't forget to follow Cosmopolitan Philippines on Facebook and Twitter for updates on more exclusive interviews!
Continue reading below ↓
Recommended Videos
1186