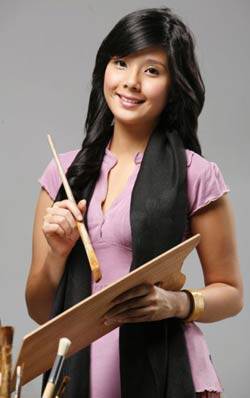 Believe it or not, I never really thought that I would get to where I am today. Despite the fact that I come from a family of celebrities, with my
Lolo
Pancho and
Lola
Tita as one of the most famous love tandems of their time and, of course, my dad, Francis Magalona, who is considered as the Master Rapper of the Philippines, I never imagined that I would one day follow their footsteps. [readmore]
As a child, my dream was to become a pre-school teacher. I used to play make-believe classroom with my sister Saab, whom, by the way, I taught how to read with the use of Archie comic books. Becoming an actress, on the other hand, never crossed my mind.
However, my mom saw something in me that made her think otherwise. According to her, I loved the spotlight and enjoyed being in front of the camera when I was a kid. She and my dad would bring us to their concerts and those were the times they noticed that I had a knack for performing. I just loved doing my crazy antics and making people laugh. In other words, you could say that the showbiz blood was obviously running through my veins.
My mom brought me to
Ang TV
when she was asked to, since they were looking for celebrities' children to be part of the show. Naturally, I agreed to go and the day they chose me as one of the show's newest cast members was the same day my career as a Filipino actress/celebrity began.
Today, I am a busy but happy bee, juggling my show on GMA 7's
Dramarama sa Hapon
, which is
Kung Aagawin Mo ang Lahat sa Akin
, and my studies at the Ateneo de Manila University, where I'm already in my last semester. I know working and studying at the same time can be extremely difficult but I am here to prove to you that it CAN be done.
I've been doing this for so long already and despite the difficulty, I am still able to get through my college life with ease. Why? It's because of the passion and love that I have for whatever it is I do. Putting your whole heart into anything that you choose to do will make you achieve the things that you rightfully deserve. I just feel so blessed that at such a young age, I am able to do two things I love at once.
So there you have it. I can be very talkative so expect to read more about me and my life. I can't wait to share more stories with you!
See you again, Cosmo chicks! <3
Photo courtesy of GMA-7
Continue reading below ↓
Recommended Videos