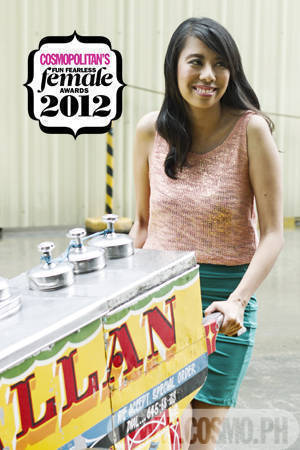 There's no doubt that "It's More Fun in the Philippines", thanks to the latest tourism campaign which was an instant hit on social media networks. Even CNN got in on the action when it began airing television commercials alongside its week-long "Eye on the Philippines" series of special reports.

Now that the number of tourist arrivals has hit an all-time high, we think it's about time we give props to the people who created and developed the campaign that encouraged us all to proudly proclaim our nationalism.

2012 Fun, Fearless Female Awardee Corey Cruz is the creative head of Proximity at BBDO Guerrero, the country's most-awarded advertising firm which was also behind the previous "WOW Philippines" campaign. Together with her team, the 34-year-old developed the site and social media components that gave the slogan its interactive and viral appeal.

We recently met up with Corey for her magazine shoot and found out that she is just as fun as the campaign she helped create! Launch the gallery to see behind-the-scenes photos from our shoot with her.


To see the rest of the Fun, Fearless Female Awardees, grab the May 2012 issue of Cosmopolitan Magazine with ANNE CURTIS on the cover, in stands NOW! Virtually flip through our online teaser of this Collector's Edition!
Continue reading below ↓
Recommended Videos
1979