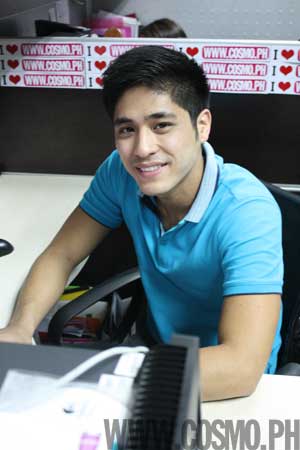 We know how much you love, love, love our Online Hunk for January 2011, Paul Jake Castillo. We can't blame you, since he really helped us start 2011 on a kilig note. So, as a Love Month treat, we gave all of you the chance to chat with this PBB hottie--LIVE--here in Cosmo.ph last February 10, 2011.

Paul Jake was super game for the live Cosmo Chat session. We set up a webcam so that everyone logged into the chatroom could see Paul Jake's facial expressions, as he tries to answer all the messages and questions from his Cosmo fans online (he admitted it was quite a challenge talking to almost 80 users, all at once!).

Even before the chat session started, we already noticed a number of users logged into the chatroom, eagerly waiting for Paul Jake to go online. Paul Jake actually arrived at the Cosmo HQ earlier than the 7PM call time, so we let him have a little snack first. At exactly 7PM, Paul Jake entered the chatroom.

That's when it started to get a little crazy. Fans were simultaneously throwing in their greetings, requests (a LOT of users wanted him to take off his shirt), and questions (mostly about Sam Pinto and his preference for underwear!), while Paul Jake tried his best to answer each of them. Here are a few unforgettable lines from Paul Jake during the chat:


Continue reading below ↓
Recommended Videos
"The best V-Day gift for a guy would be through his stomach, and gadgets! Trust me!!! Make sure he likes it ha..." (To which chatter yly replied: "I will look for a gadget na pwede kainin!")


"If I were to take a date out on V-Day sa Cebu, I'd take her to a place where kami lang dalawa and ako magluluto." Later on, he typed, "I'll learn how to cook muna and what to cook din."


When someone asked him about his fave vacay spot, he replied, "Fave vacation spot? Sa puso mo 'teh!"


"Did you know that men's pheromones come from the underarms and it attracts women most of the time?"


On his celeb crush: "Kate Beckinsale!!!"


"Make sure free kayo sa Feb. 16. Wednesday 'yun ah. You just might be the one..."


We hope you enjoyed chatting with this hot Cosmo hunk, because we're pretty sure he enjoyed talking to Cosmo members, too! If you missed this rare chat event, here's your chance to catch up: Browse through our gallery to view screengrabs from the live chat, as well as photos of Paul Jake while he was here in the Cosmo office. You can even check out our video coverage--with an interview with Paul Jake right after the chat. Watch it here!

We know that most of you who participated in the chat wanted to be Paul Jake's Valentine, so we randomly picked one lucky girl to go on a date with him: Cosmo.ph user Rhea Barua, an editor from Makati City, a.k.a. patticakes. Get an exclusive peek into Paul Jake's romantic night out with this lucky Cosmo girl, coming soon on Cosmo.ph!
967