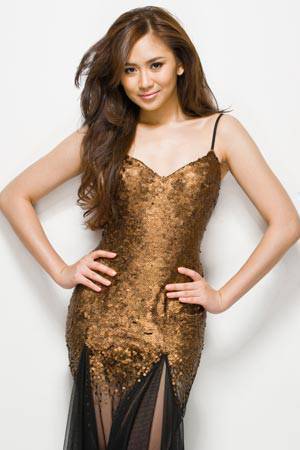 At her December 2011 Cosmo cover shoot, we saw a sexier, stronger, more mature Sarah Geronimo than the pop princess who made her Cosmo debut three years ago. After an eventful year of heartbreak, box office success, and music accolades, she's ending 2011 on a high note as she reflects on her past year and goes effortlessly glamorous in the current issue of Cosmopolitan Philippines.

If you look back on her first cover and compare it to the current one, you'll realize that Sarah is now more comfortable and daring when it comes to fashion. She was more game to wear elegant, glamorous, and edgy outfits this time, and even contributed to her cover styling by bringing a lot of her own trendy designer shoes! Think Alexander McQueen, Gucci, Jimmy Choo, and Yves Saint Laurent heels--love, love, love 'em!

Fashion director Ana Kalaw explained that for the December cover wardrobe options, "we wanted to connote the party atmosphere, so we put in a lot of fun clothing, a lot of sparkly, colorful, gold, [and] metallic clothes just to bring out that festive feel."

Most of the body-hugging outfits were adorned with sequins, lace, and mesh panels that showed off Sarah's svelte figure. The pop star rocked each of the outfits, as you can see in her behind-the-scenes video on CosmoTV, and even wore a version of one of them to the recent premiere of her latest film Won't Last A Day Without You, co-starring Cosmo hunk Gerald Anderson!

Launch the gallery to see the fab and sexy outfits that made it to the cover story, plus some wardrobe options and all the shoes Sarah herself brought to the shoot!


Grab a copy of Cosmopolitan Philippines' December 2011 issue with Sarah Geronimo on the cover to read her exclusive feature entitled "Sarah When She Sizzles" (flip to pp. 32-36)! Click on this link to view the e-magazine teaser!
1685
Continue reading below ↓
Recommended Videos