Our parent company, Summit Media, held its second digital convention on August 2, at SM Aura's Samsung Hall. The theme for this year's event was "Storytelling for Brands: Global Trends, Insights, and Best Practices In Content Marketing And Native Advertising."
Here's Cosmopolitan Philippines' Editorial Director Myrza Sison, who hosted the Digital Summit.
What's a digital event without it trending on social media? #DigitalSummitStoryTelling trended on Twitter, thanks to hundreds of brand leaders who posted about the event. Here's proof that the hashtag beat #JadineOnTeenVogue, LOL: 
— Trendinalia PI (@trendinaliaPI) August 2, 2016
So what exactly happens at a digital summit? Well, imagine a ginormous classroom with a bunch of digital geeks teaching you all the cool things they learned on the job.
Continue reading below ↓
Recommended Videos
Look at that crowd!
For this class, the teachers were from Summit Media—including our president, Lisa Gokongwei-Cheng, who delivered the opening remarks.
Lisa Gokongwei-Cheng of @SummitMedia_PH delivers the opening remarks for #DigitalSummitStorytelling pic.twitter.com/HYW29fhoa6

— SPIN.ph (@spinph) August 2, 2016
Summit Media's Print and Digital Publisher, Edna Belleza, kicked things off by explaining the digital publishing landscape, focusing on millennials (That's us!) who prefer their social media newsfeeds over email or search. 
Edna Belleza (Publisher, Summit Media) talks about content in the digital landscape #DigitalSummitStorytelling pic.twitter.com/RIFFDPJV7q

— SPOT.ph (@Spotdotph) August 2, 2016
Next up was Chris Guenther, Vice President for Business Operations at Cosmopolitan's US headquarters, Hearst Magazines International. He shared Hearst's best practices for native advertising, including reasons why it's the way to go if you want brand awareness. 
"Advertisers invest in branded content for awareness," says Chris Guenther of Hearst #DigitalSummitStorytelling pic.twitter.com/Y2PNaNK3OY

— SPOT.ph (@Spotdotph) August 2, 2016
Here's Amina Rillo, Summit Media Director For Digital Strategy, talking about the power of using video content.
Iza Santos and Mikey Agulto from Summit Media's Creative Solutions Team gave a talk show-inspired presentation on what sets native content apart from other forms of advertising.
Listing down the 10 misconceptions of Native Advertising here at #DigitalSummitStorytelling pic.twitter.com/VT4ZtQxcij

— Official PEP.ph (@PEPalerts) August 2, 2016
Iza and Mikey's presentation was followed by yours truly—I talked about how in digital publishing, there's no such thing as writer's block, because all you really need to do is look at your data (Google Analytics, Facebook Insights, etc.), and you're bound to find a story! 
After Cosmo.ph's presentation, other Summit editors also shared their digital discoveries on the job:
Here's Preview magazine's editor-in-chief, Isha Valles, who announced that Stylebible.ph will be Preview.ph soon!
Spot.ph editor-in-chief Joanna Manalastas talked about the power of the listicle (List + Article):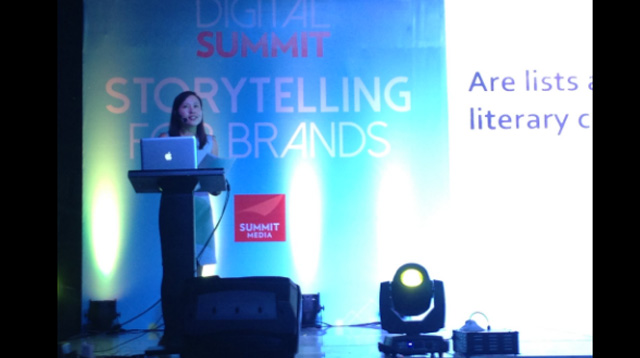 Pep.ph's Managing Editor, Karen Pagsolingan, gave a very entertaining talk about how PEP is able to find multiple angles for one story topic. 
Spat b/w @GretchenBarreto and @DawnZuluetaLagd was @PEPalerts' hit story. #DigitalSummitStorytelling pic.twitter.com/ZuJFiRuDre

— Forbes Philippines (@Forbes_PH) August 2, 2016
After the digital editors' talk, there was a brief Q&A:
The program closed with Summit Media Group Advertising Director, Flo Bienvenido, giving a recap of the event. 
Of course, this successful Digital Summit couldn't end without a group pic! 'Til next year! 
(From left) Jillian Gatcheco, Chris Guenther, Flo Bienvenido, Edna Belleza, Myrza Sison, Lisa Gokongwei-Cheng, Amina Rillo, Iza Santos, Mikey Agulto, Jo-Anne Maglipon, Karen Pagsolingan, and Isha Valles.
For more photos from the Digital Summit, check the hashtag #DigitalSummitStoryTelling on Facebook, Instagram, and Twitter. 
Follow Jillian on Instagram.