A section of American comedienne Issa Rae's 2015 book, The Misadventures of Awkward Black Girl, is making the rounds on social media for being non-too-complimentary about Filipinos.
In her book, Issa laments over how black women and Asian men have poor reputations in the dating department and suggested a solution: "I propose that black women and Asian men join forces in love, marriage, and procreation. Educated black women, what better intellectual match for you than an Asian man," she said.
Issa, however, singles out Filipinos in her book, saying, "And I'm not talking about Filipinos; they're the blacks of Asians."
Continue reading below ↓
Recommended Videos
Actor Enchong Dee expressed his disappointment on Instagram Stories and responded to the issue. "[A] famous black woman says not to date Filipino men because they're the 'Blacks of Asians.' Welcome to 2018 everyone," he said. "Just when you thought humanity is getting better."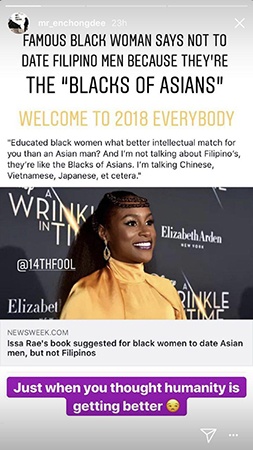 This also drew ire from Twitter users finding the passage offensive to not only black men but also Filipinos.
Issa recently won a Peabody Award for her HBO show Insecure.