With Anne Curtis and Marco Gumabao's sexy promotional photos for Just A Stranger making the rounds online, netizens have been bashing Anne for taking on the role as a ~married~ woman and speculating about husband Erwan Heussaff's reaction. Erwan has been pretty chill about the whole thing and even joked about it with Marco.
Commenting on Anne's latest post, Erwan set the record straight. "Hilarious comments. Last I checked, I'm the husband and I know how I feel (which is completely fine by the way, thanks for asking). So no need to throw around words like 'disrespect' or dictate what a person should or shouldn't do after getting married. I've known my wife as an actress since day one and I have the utmost admiration for what she does. End of story."
Continue reading below ↓
Recommended Videos
How does it feel to watch Anne's intimate scenes with actors? "I don't feel awkward or uncomfortable when watching these movies (you guys commenting make it awkward). When I read the script, I actually actively gave Anne inputs on how I think the story could be developed or portrayed."
Erwan's PSA: "So let's stop talking about marriage like it needs to change people. Most successful marriages I know are those where both parties kept their identity intact and grew as a couple. Also, let's not be sexist people—if this were a married guy actor doing love scenes, no one would have any issue with it." *mic drop*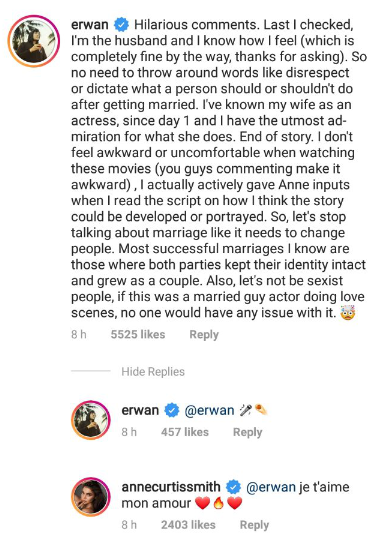 Erwan also re-posted Anne's photo on IG Story. "Make sure you guys watch it! Proud of the work Anne put into this."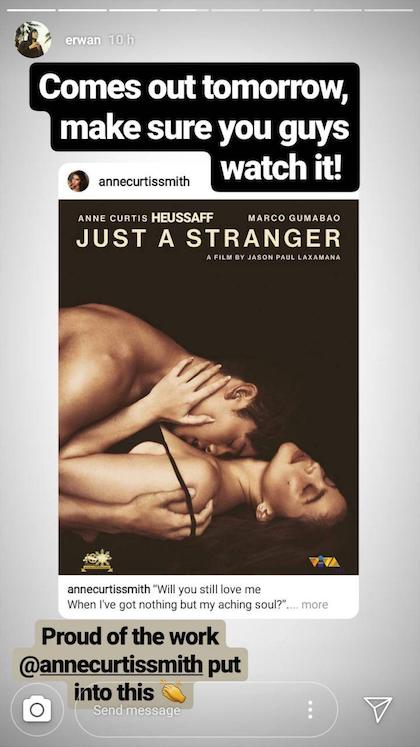 Coming out today, Just A Stranger is about the affair of a married woman and a younger guy who's in a relationship. You can watch the trailer below:
Follow Dyan on Instagram.