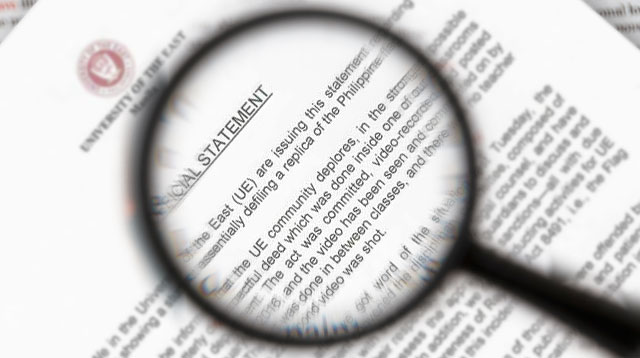 Instagram/University of the East (UE)
The University of the East [UE] owned up to what it described as a "disrespectful deed" done by one of its pupils who was caught on video intentionally using the Philippine flag as a floor mop.
[fb:https://www.facebook.com/filipinonetizenscom/videos/1306294692730844/:fb]
In a statement, UE President Dr. Ester Garcia expressed his dismay over the incident which was committed on Tuesday.
ADVERTISMENT - CONTINUE READING BELOW ↓
"We in the University of the East are issuing this statement regarding the viral video showing a student essentially defiling a replica of the Philippine flag," he said.
"Please be informed that the UE community deplores, in the strongest possible terms, the said utterly disrespectful deed which was done inside one of our classrooms in the High School department," he added.

Garcia said they have already taken actions to address the incident which occurred in between classes with no teacher present.

"The University's High School department convened the disciplinary committee composed of faculty members and coordinators with the assistance of our legal counsel, and have met with the students involved and their respective parents or guardians to discuss and investigate what happened, and to assess the appropriate sanctions," he said.

"In addition, we are conducting activities for UE students of all levels to raise renewed awareness of Republict Act 8491, i.e., the Flag and Heraldic Code of the Philippines, following this incident," he added.

Violators of the mentioned law face a fine of up to P20,000 and a year of jail time.

In the end, Garcia appealed to the public's "calm and patience" as he reassured their university's teaching methods have nothing to do with the incident.

"We maintain that this incident is far removed from the education our institution imparts and the values we in the UE community uphold," he said.