Franco Mabanta, who describes himself on his Facebook page as a "CEO and business junkie, political analyst, social media strategist to the big dogs, and crusher of life," is taking flak for publicly announcing on FB that he is "100 percent in favor of fat shaming."
The post, which as of press time cannot be found on his page anymore, contains a photo of him and ESPN5 reporter and body builder Sel Guevara on a yacht. It was published on April 8. The tagged location is the Manila Yacht Club. 
In his long rant, he wrote, "I think the world would be a better place if all these weak minds that are captive to their bad food habits were constantly told to get off their fucking couches and stop being little bitches. Nothing motivates people to get into shape like insecurity."
He also declared that he was "sick of 2018 political correctness and all this 'I'm offended' bullshit."
He ended his tirade with, "You got one body. Take care of it."
One of the many personalities and celebrities who first reacted to the post was actress Cai Cortez, who is best known for the films Ang Babae sa Septic Tank (2011), English Only Please (2014), Ang Taba Ko Kasi (2016), and Ang Dalawang Mrs. Reyes (2018). On Cai's Facebook page, she reposted Franco's statement and captioned it, "Gago."
Continue reading below ↓
Recommended Videos
Below is a screenshot of Franco's post taken from Cai's page: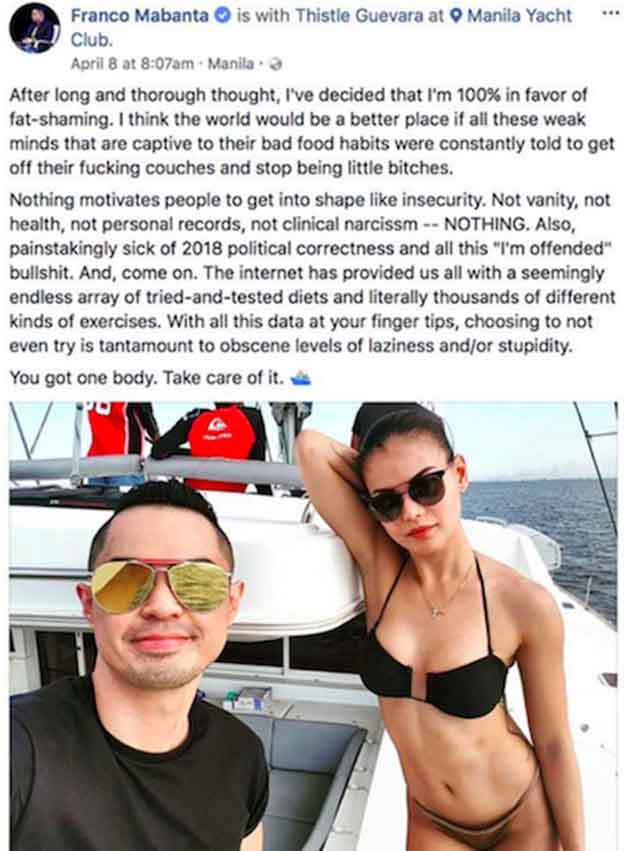 Franco posted the same photo on his Instagram account with the caption: "Go to the gym. Eat better."
Since the post has gone viral, netizens have thrown spiteful words in Franco's way. A collection of those reactions were posted on an article called, "The Angriest Reactions To Franco Mabanta's Fat Shaming Post," published on FHM.com.ph.
Franco has remained mum on the issue, while Sel has released a statement on her Instagram stories: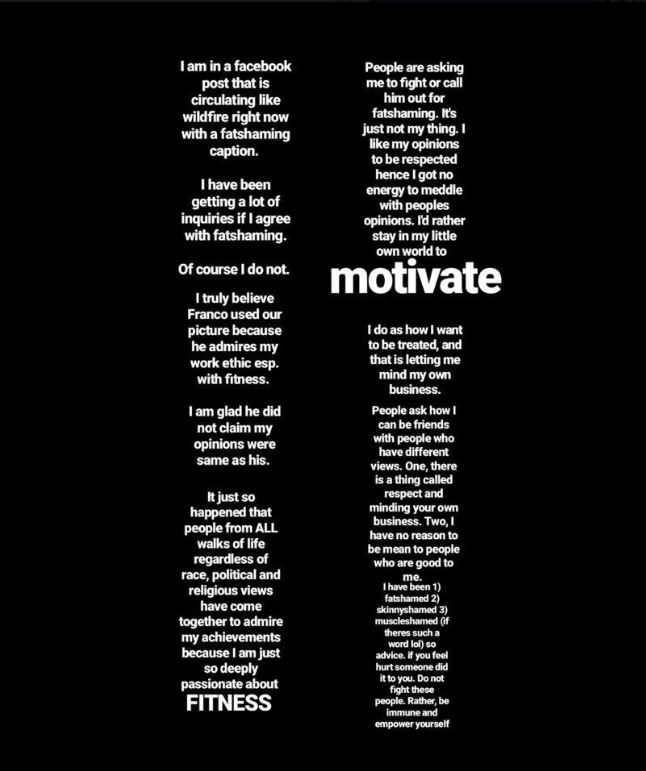 What's your take on this one, CGs? We say, love your body, and don't let anyone make you think you shouldn't!