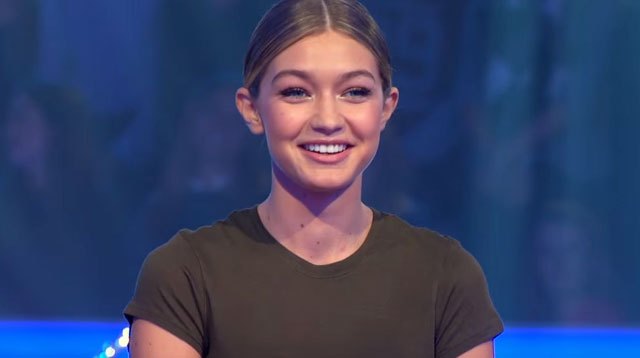 YouTube/FOX
Supermodel Gigi Hadid raised $25,000 for a Lyme disease charity by winning a celebrity version of MasterChef.
Gigi competed against fellow model Devon Windsor during the MasterChef Celebrity Showdown by cooking up a dish to impress star chefs Gordon Ramsay and Christina Tosi.
Gigi's beef burger with pickled jalapenos, spiced crispy onion, and fries triumphed over Devon's squid ink spaghetti with grilled shrimp by "a slight margin" and she was presented with the cheque for $25,000.
Well done, @gigihadid and @devwindsor !#SuperModelBattle #MCShowdown pic.twitter.com/3igHl5swOr

— FOX (@FOXTV) January 19, 2016
The runway star took part in the show to raise money for research into Lyme disease, a tick-born illness which affects her mother Yolanda Foster, sister Bella, and brother Anwar.
Continue reading below ↓
Recommended Videos
Gigi fought back tears as she explained why she chose Global Lyme Alliance to receive the money, telling the judges, "Not enough [people] know what Lyme disease is and the dangers of being bitten by an insect, so for that on its own is amazing, but with $25,000, we can help with finding a cure. It can help so much."
After the show, Gigi posted a selfie with the check on Twitter, and wrote in the caption, "Call me master chef Hadid!... All the lymies out there @LymeAlliance this one's for you! Thank you."
CALL ME MASTER CHEF HADID! All the lymies out there @LymeAlliance this one's for YOU! Thank you @MASTERCHEFonFOX ???????? pic.twitter.com/VryENIACNd

— Gigi Hadid (@GiGiHadid) January 19, 2016
Yolanda Foster announced her children, Gigi's younger siblings Bella and Anwar had the disease during a Global Lyme Alliance gala in October, telling the audience, "When my two youngest children, Bella and Anwar, were diagnosed with chronic Lyme disease in early 2012, watching my babies struggle in silence in order to support me in my journey struck the deepest core of hopelessness inside of me...
"This award is for Anwar and Bella. This is my token and my promise to you that I will not allow you to live a life of pain and suffering. I will walk to the end of the earth to find a cure so that you can live a healthy life that you deserve. No child should suffer the way that you do... I thank you both for your extraordinary selflessness during this journey. Your unwavering love and compassion has kept me alive and fighting through the darkest days of my life."