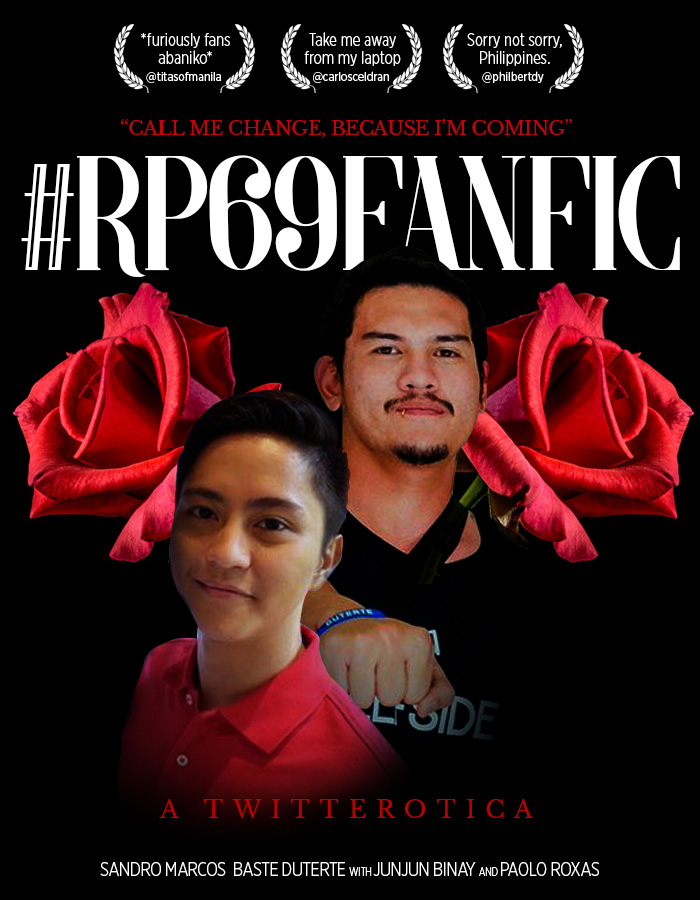 TWITTER: sandromarcos, sebduterte (Poster by Cosmopolitan Philippines)
ICYMI: #RP69FanFic is the latest hashtag trending on Twitter! Film critic Philbert Dy started the hashtag, and we're assuming he probably had enough of the #Halalan2016 bashing online ('cause we have).
How does it work? Well, each tweet typically involves a sexy, steamy—and obviously invented—story between Baste Duterte, son of Davao Mayor (And future Philippine President—according to "partial" and "unofficial" election results) Rodrigo Duterte, Sandro Marcos, Congressman Ferdinand Marcos Jr.'s son, and ocassionally, Brian Poe Llamanzares, Senator Grace Poe's son.
If you read everything, you'll also enjoy appearances from former Makati City mayor Junjun Binay and 2016 presidential candidate Mar Roxas' son, Paolo Roxas. Plus, Daniel Padilla and Alma Moreno references—pretty much anyone running for public office or involved in the 2016 Philippine Elections. Awkward!
Wish we could compile all the tweets for you, but there are a LOT of good ones. So here, a few of our favorites. Enjoy!
P.S. It gets really weird, LOL!
***
"How deep is your love?" Sandro asks, to which Basti replies, "Deeper than the debt that your lolo put the Philippines into." #RP69fanfic

— DLSU Amphiturtle (@Amphigong) May 11, 2016
***
Sandro to Baste: Your love is my drug.
Duterte: drugs?! Patayin kita.
#RP69fanfic

— Shawn de Velasco (@shawnvelasco) May 11, 2016
***
Sandro: "We've been doing this position for hours already."

Baste quietly whispered: "Wait lang, change is coming."#RP69fanfic

— Jian Genovana (@jiangenovana) May 11, 2016
***
"Uhm, we've been going out for quite some time now. Ano ba tayo?" Sandro asks nervously
"Partial and unofficial," answers Baste#RP69fanfic

— Jerome Infante (@jomskywalker) May 10, 2016
***
*Sandro turned the lights off*
Baste: wait. someone's watching us in the dark
Sandro: who is it?
Baste: sino pa ba? Only Binay!#RP69fanfic

— Airo-kun (@airowoo) May 10, 2016
***
Sandro thrust a little too hard.
"Ouch," said Baste.
"Sorry," said Sandro.

It was the first time a Marcos said sorry. #RP69fanfic

— Isabella Villarojo (@isssuh) May 10, 2016
***
Sandro asked, "Can you do one giant thrust?"

"I can Du30", Baste replied. #RP69fanfic

— aids (@bonchonchicken) May 10, 2016
***
"What do you call this position?" Sandro asked with amazement.

"The Davao Death Squat" said Baste.#Rp69fanfic

— Dan Cabangon (@dancabangon) May 10, 2016
***
"How long is it?" sandro asked.

"Every letter of my province equals an inch", said baste.

"Davao? 5 inches?"

"Davao del sur" #RP69Fanfic

— niche dumlao (@nicherautomatic) May 10, 2016
***
Sandro n Baste kissed n groped. The bed shook. They stopped. They looked over the other side of the bed and saw Junjun's Junjun. #RP69fanfic

— HaHaHaHa! (@MarcusRa_) May 10, 2016
***
"I want to scream right now," Baste said.
"Shhh. Di naman ikaw ang bottom, so shut up na lang," Sandro replied. @philbertdy #RP69fanfic

— budget human being (@rosaaabells) May 10, 2016
***
"What number did we stop"
"I lost count"
"Guess you'll have to recount" said Baste as he thrust harder into Sandro@philbertdy #RP69fanfic

— Ella (@heckyeaherica) May 10, 2016
Hot ba, tita?
*furiously fans abaniko*#RP69FanFic

— Titas of Manila (@TitasofManila) May 11, 2016
Recommended Videos